All4One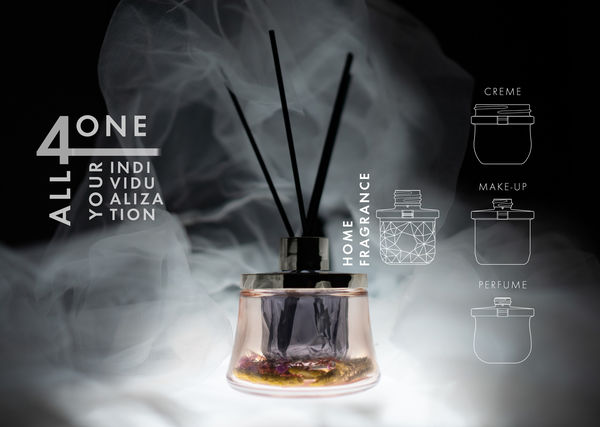 HEINZ-GLAS opens up new possibilities for the idea of sustainability.
With the "All4One" glass jar concept, HEINZ-GLAS relies on a modular refill design solution which, in contrast to the previously known plastic refill inserts, relies entirely on glass as material.
MORE
MASCARA
We can do that: HEINZ-GLAS sustainably on the road in terms of beauty
The glass mascara bottles from HEINZ-GLAS are top quality, stylish & CO2-neutral!
With this eye-catcher, we are really stirring up the mascara market: For this new product line, we have teamed up with GEKA, one of the world's leading manufacturers of high-precision application systems for the cosmetics market specializing in mascara. With our know-how, the perfect coordination of details and some great innovations, we now offer beautifully designed mascara bottles that make the change from plastic to more attractive glass. The options are almost unlimited: glass type, colour, finishing in combination with a choice of brush and closure? Simply put together online with the Virtual Designer, we take care of production including filling. This is also the advantage of the short distances: Everything is made in Germany, most of it even made in Kleintettau! i.e For example, the specially developed wiper by GEKA is manufactured by our sister company HEINZ-PLASTICS. All this with an unbeatable environmental balance: For decades, we have been actively minimizing our CO2 emissions in our region Upper Franconia and on top of that, organizing climate neutrality. Additionally, because mascara as a beauty product is really a matter of trust, we have here an advantage in terms of quality. Both HEINZ-GLAS and GEKA are GMP-certified which is verging on medical standard! So oops, dear cosmetics industry, here we come!
Not a Mistake
"NOT A MISTAKE" by HEINZ‐GLAS turns deviations into chances
A premium glass with a crooked bottom inside, visible shape seams, irregular surface or enclosed air bubbles? What seems to be a mistake at first glance is absolutely wanted and becomes pure design! With our "NOT A MISTAKE" series, we turn four deviations from the norm into an aesthetic that is as trendy as it is honest and an opportunity for our customers. For an individual and natural glass optics, the four tolerances can be freely selected according to the modular principle. In our often uniform world, this authentic, unadulterated look guarantees maximum attention. And it testifies to ecological awareness. Glass is made of natural materials and can only be brought into a flawless shape with great effort. The more deviations are tolerated, the more sustainable the manufacturing process and the more natural the appearance – without any compromise in terms of quality. The use of 25% recycled glass and greener energy increases the climate-friendly factor once again. Whether glass jar or bottle, "NOT A MISTAKE" makes all products an honest design eye-catcher. In prototypes we have illustrated the aesthetic effect that the customer can achieve with different combinations of irregularities. Download PDF
Stylish & environmentally conscious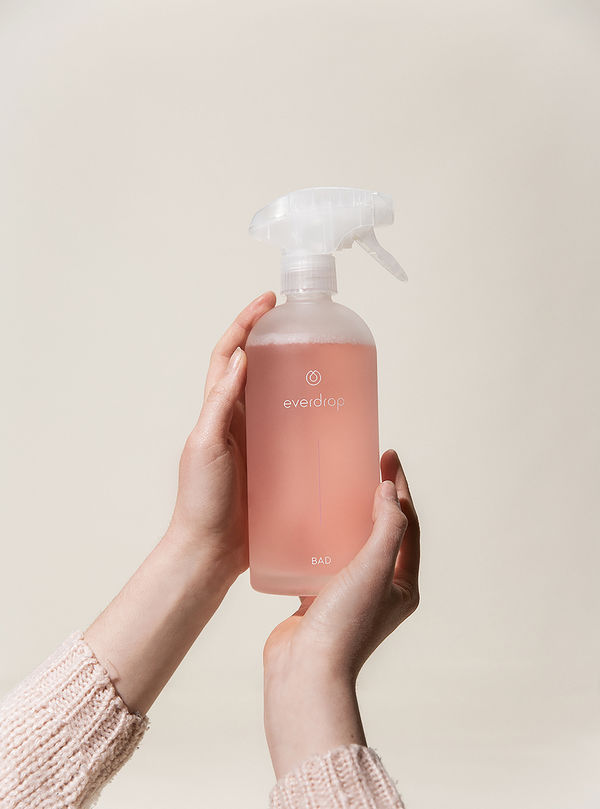 With everdrop we make the world cleaner!
Powerful glass bottles for cleaner tabs and social climate protection projects – our latest partnership with everdrop strengthens CO2 reduction worldwide! The company around innovative household products was looking for an adequate bottle for its cleaner tabs, which dispense with single-use plastic and unnecessary chemicals and save 95% CO2 emissions during transport. It is crystal clear that it was found at HEINZ-GLAS. Our positive environmental balance through electric furnaces and green electricity, our experience with high-quality bottles and the infinitely recyclable material glass, were the decisive factors for the cooperation. The stylish everdrop bottles are made climate-neutral through compensation: Through the Climate Partner Foundation, we finance the equivalent of 315,040 kg of CO2 in climate protection. With everdrop and the cleaner tab bottles, we are making the world a little cleaner in two senses.
Have a look at the project Visit Everdrop
We are very big in reducing our CO2 footprint
We now have made available 3 standard bottles - carbon neutral!
Sensationally low 0.4g CO2 is produced in Kleintettau per gross gram of glass produced, and the trend is decreasing! And we are increasingly compensating for CO2 emissions, which cannot be prevented despite all efforts, with climate protection projects certified according to the gold standard. Now we have made the no-frills noble bottles Shine (15ml + 50 ml) and Enso 100ml (with caps) CO2-neutral with an ocean project: For every balanced ton of CO2, 10kg of plastic is fished out of the sea. This fits perfectly with our environmental policy at HEINZ-GLAS, because we are the top of the class in reducing the CO2 footprint: As a pioneer in the industry, we invested in highly efficient electric melting furnaces, which we operate with hydropower green electricity!
Have a look at the project
POCKET
The Pocket Line offers many possibilities. They can be refilled, they are available in glass as well as plastics and the bottles are readily available as they belongs to our standard portfolio. The CV11 is the new refillable standard of the future. Due to a reduced neck height, accessories can be designed a lot shorter. HEINZ-GLAS offers many products within the Pocket Line. For glass, all decoration options offered by HEINZ are realizable. For plastics, any colour, hot stamping, heat transfer foil, lasering and silk screen printing are imaginable. Furthermore, the Pocket Line is not only available in PET but also in PCR-PET. Overall this new standard line is full of possibilities. As the new Pocket Line bottle are available in plastic and in glass and with the extensive range of refinement options, no sacrifices need be made towards design. To satisfy the needs of a fast-changing and continuously developing world, the Pocket Line is readily available as part of our standard portfolio.
INVISIBLE Family
1. Integrated in the glass and constant throughout the entire life cycle, INVISIBLE UV Protection Integrated: The UV protection developed with the company ferro, now part of Vibrantz Technologies, vary in terms of UVA and UVB radiation as well as intensity of protection as required and glass color.
2. INVISIBLE UV Protection (sprayed) protects the contents of the bottle with a sprayed and completely transparent UV protective varnish. This ensures that the light-sensitive ingredients high quality properties.
3. With the paint manufacturer WEILBURGER, HEINZ‐GLAS focuses on contemporary health protection: Glass surface of the bottle refined with INVISIBLE senoglass® Carecoating works reliably against bacteria and viruses up to the coronavirus.
4. A milestone in the field of product safety has been reached with the company Tailorlux: INVISIBLE Identification provides the bottle with an optical fingerprint for protection and proof of the integrity of materials and products. There is no better way to protect customer and trade relations.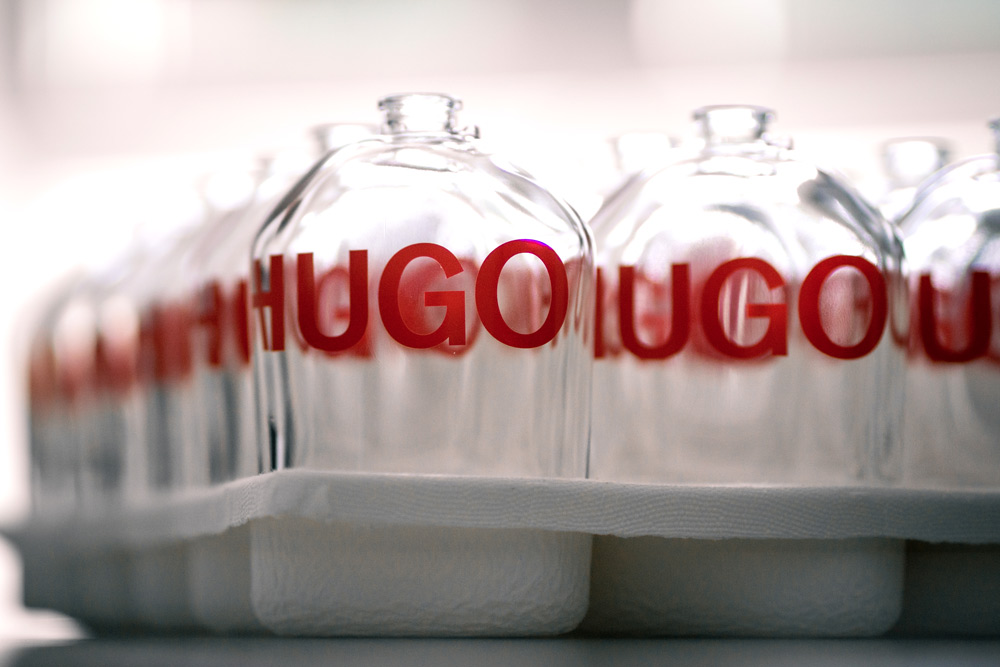 Transport packaging – safe without plastic!
The transport of the exclusive glass products is even safer and on plastic can be completely can be dispensed with: The jointly with the Cologne-based company PAPACKS Sales GmbH according to HEINZ‐GLAS, fiber casting packaging eveloped and COTY have the fibre-cast packaging placed in them expectations more than fulfilled. As the most important thing in advance, the Upper Franconian bottle manufacturer emphasizes that the three-dimensional transport shells are more dimensionally stable and shock-absorbing than their predecessors made of plastic and guaranteed improved protection. The innovation is based on 100% renewable fibres such as cellulose from trees and industrial hemp. This alone the CO2 footprint is reduced by a factor of four. According to the zero‐waste‐principle, the fiber casting transport packaging is either in green circulatory system recyclable or rot as organic compost within 6 weeks.
Of course, fiber casting transport packaging is robot-compatible, space-saving stackable and allow easier handling during assembly due to reduced number of components of pallets. The mould concept for the production of the fibre casting transport packaging was based on the basis of PAPACKS' 3D printing technology has been developed and patented over the years. The results of the 3D printer upcoming fiber casting mold tools can therefore be used cost-effectively and flexibly individual customer requirements can be adapted.
Casting is an ecological and economic response to current packaging and transport questions for premium products. HEINZ‐GLAS invites all its customers to follow the environmentally friendly path of new and better technology together.
Discover more about PAPACKS SALES GmbH
SENOGLASS® CARECOATING
A protective shield makes the glass surface self-cleaning and has benefits for health, environment and design. Thanks to the invisible layer senoglass® Carecoating, there are now bottles that can be safely picked up: Within an hour, the invisible protective shield destroys 99% of the pathogens Staphylococcus aureus and Escherichia coli – even more than 99% of coronaviruses after 24 hours. The innovative glass finishing was developed together with lacquer manufacturer WEILBURGER group.
Turn & Click
With the new Turn & Click closure system, HEINZ-GLAS Group offers an innovative, especially user-friendly locking system. The bayonet-like system requires only a slight turning movement when opening and closing and additionally protects against overtightening of the thread. A "click" sound when engaging also makes the tight fit of the closure audibly perceptible. The system can be made of glass from HEINZ-GLAS or plastic from HEINZ-PLASTICS. The shape of the container only plays a subordinate role: round, oval as well as angular shapes can be equipped with the Turn & Click closure. For the end customer, containers with this closure are particularly interesting due to the "click" when snapping in place, the minimal twisting movement and the aesthetically pleasing appearance, which invites to "upcycle" the product. Download Flyer
Haute Couture de Décoration
For us, decoration is not only a variety of finishing methods, but above all the creation of a beautiful, unique dress for every kind of product.
Therefore we are happy to present our new decoration series "Haute Couture by HEINZ-GLAS". The combination of different finishing options creates unique designs on flacons, as special as famous haute couture fashion!
In the coming months, we will present one specially decorated flacon each, developed, produced and finished by HEINZ-GLAS.
More Information: designovation@heinz-glas.com
360° smooth flowing sublimation on a lightweight bottle creates a synergy of vision and touch. The marble effect of the plastic cap continues the organic design and together with the silkscreen on the front of the bottle completes this unique product. The entire design is in Pantone Colours of the Year 2022: "Very Peri".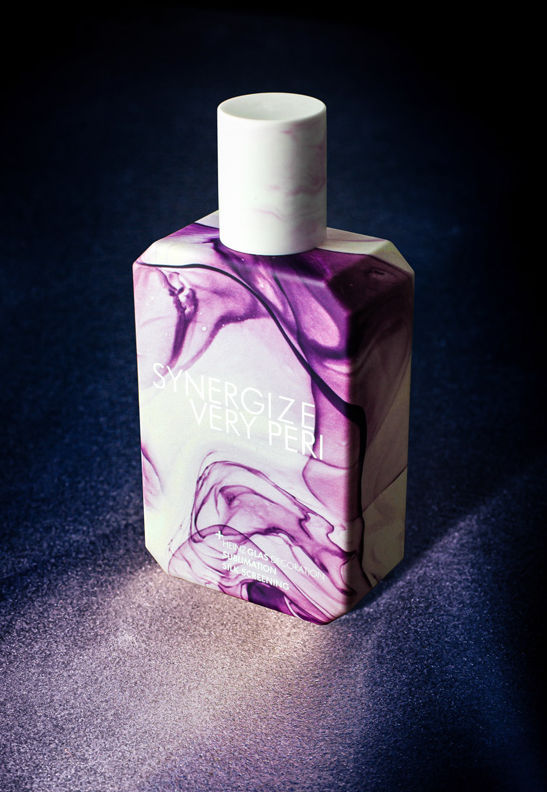 The combination of digital printing and partial flockage offers endless variations. By additionally flocking special areas of the digital print, a unique depth effect is created that can also be felt haptically. Whether it's lettering, geographic shapes or natural effects, the flockage additionally highlights special elements of the finishing.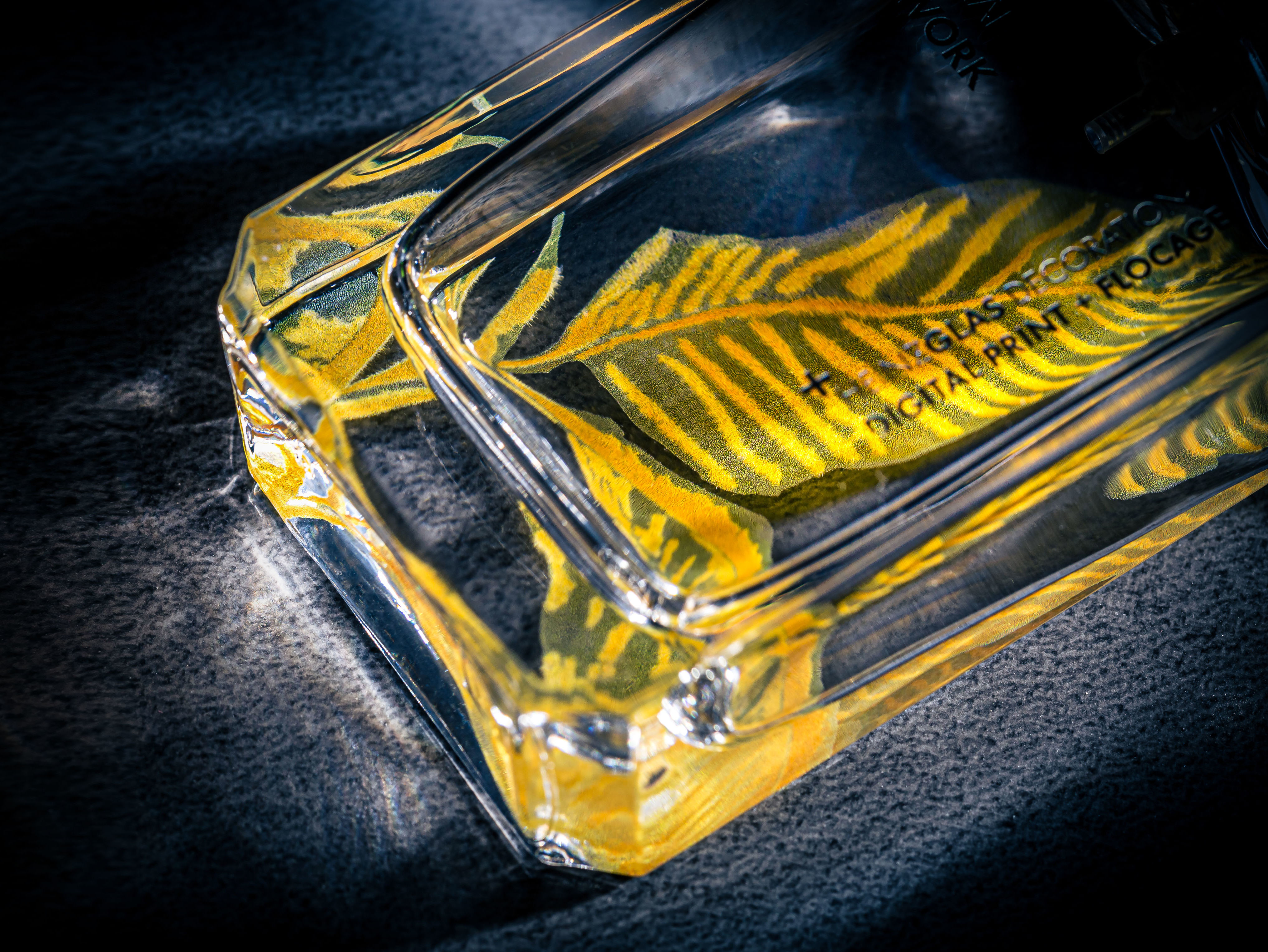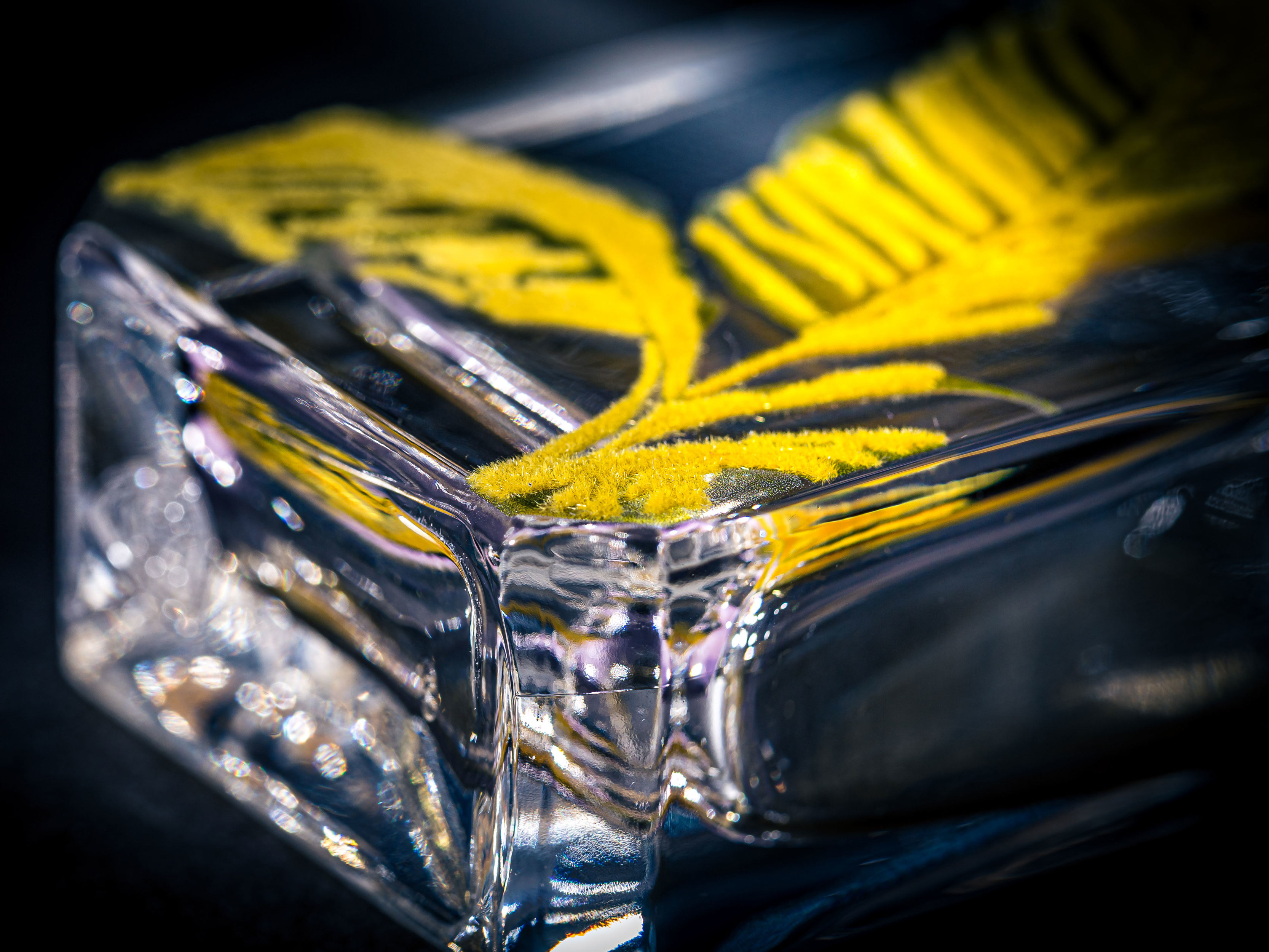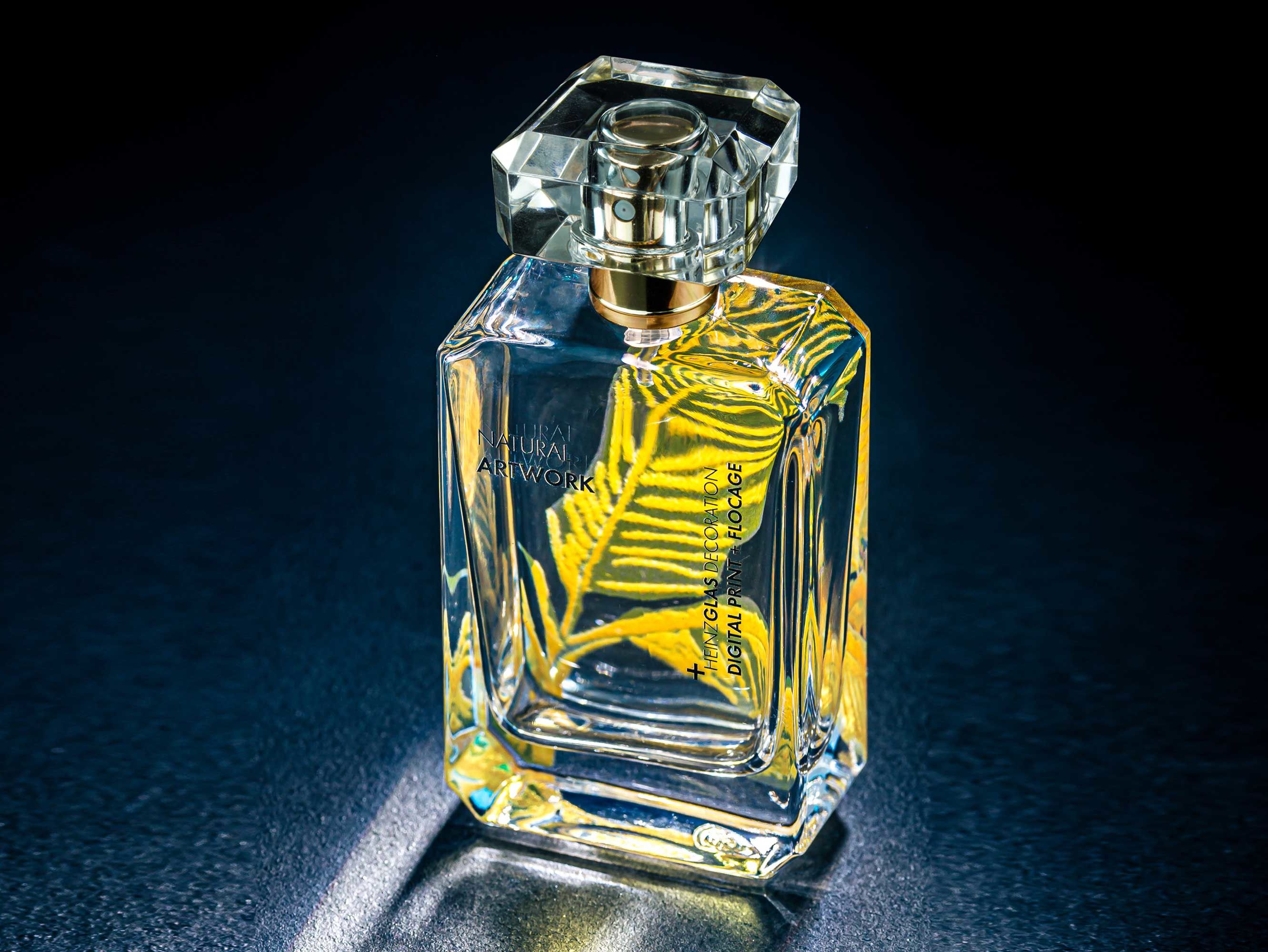 The digital print applied here is characterized by the creation of a relief, which makes the imprint on the surface haptically perceptible. In this example, the effect of a paper label can be applied to the surface very easily and flexibly. This finishing option is particularly interesting for all kinds of structures or lettering imprints.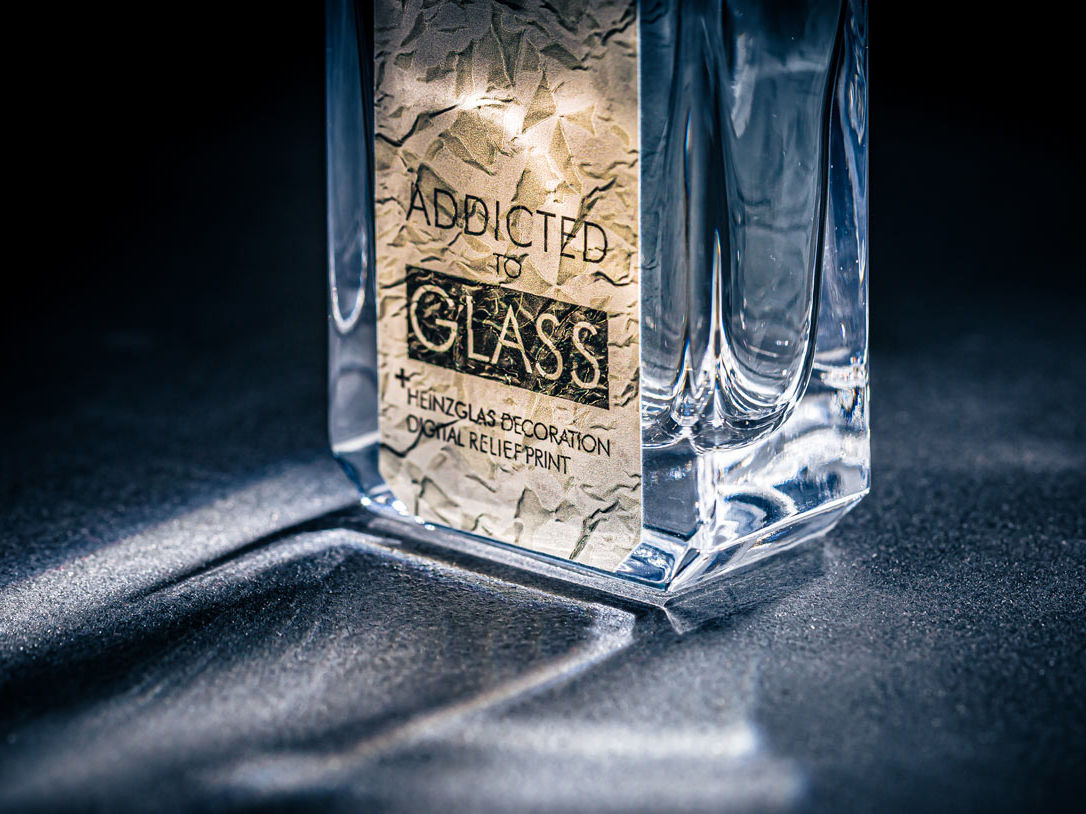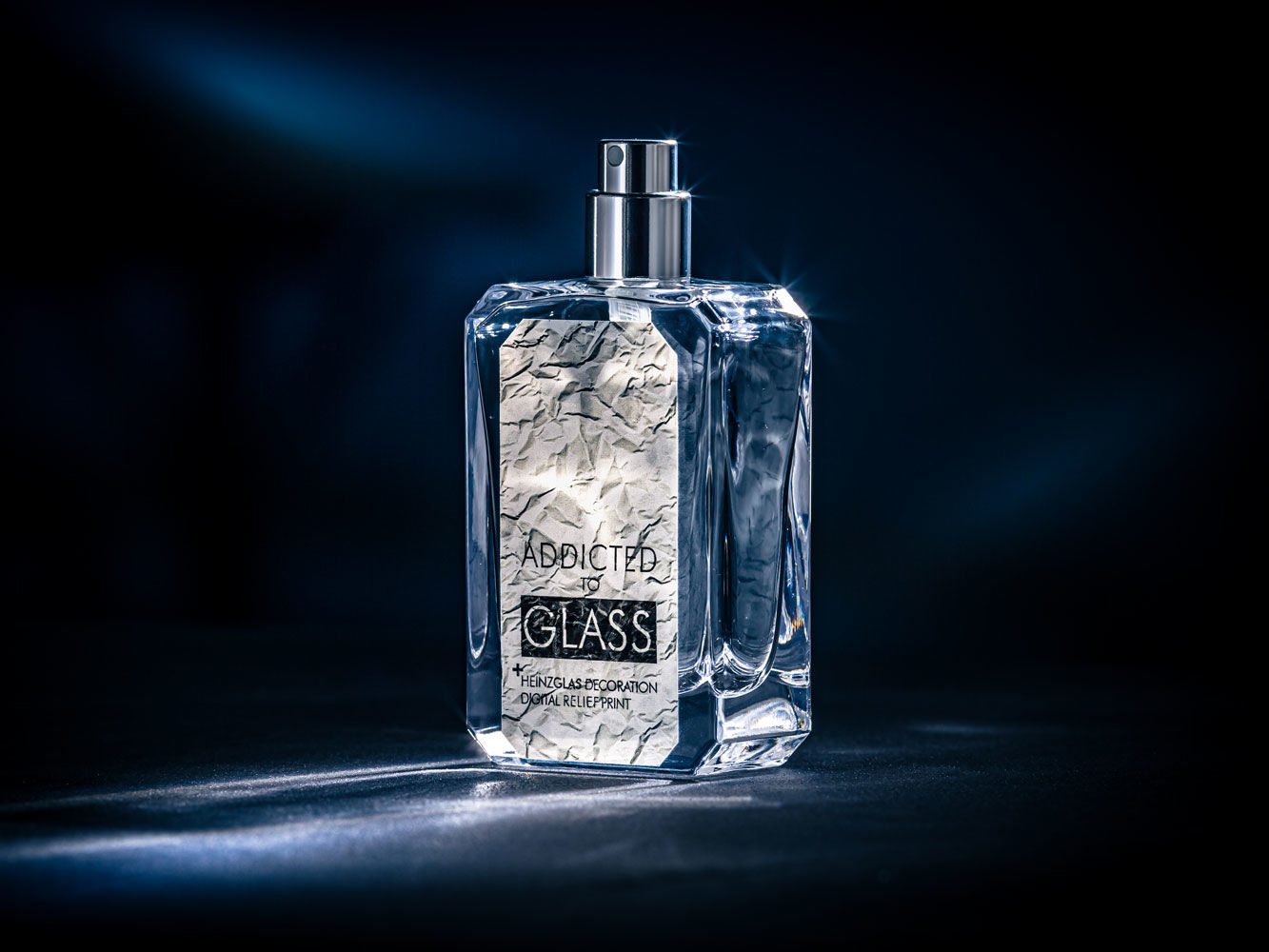 Whether metallization or color spraying as a base, a crackle varnish adds a special effect to any spray coating. The color and combination possibilities are huge, and the crinkle effect can be applied both partially and over the entire surface.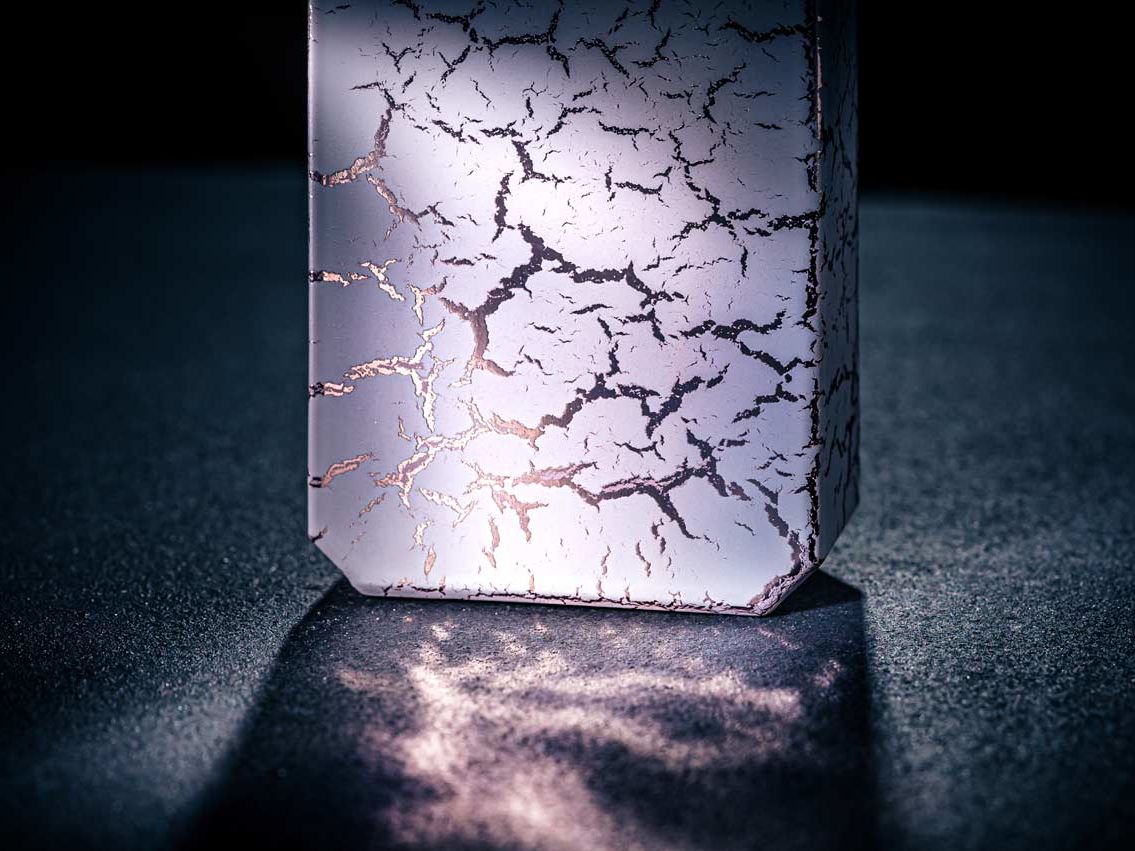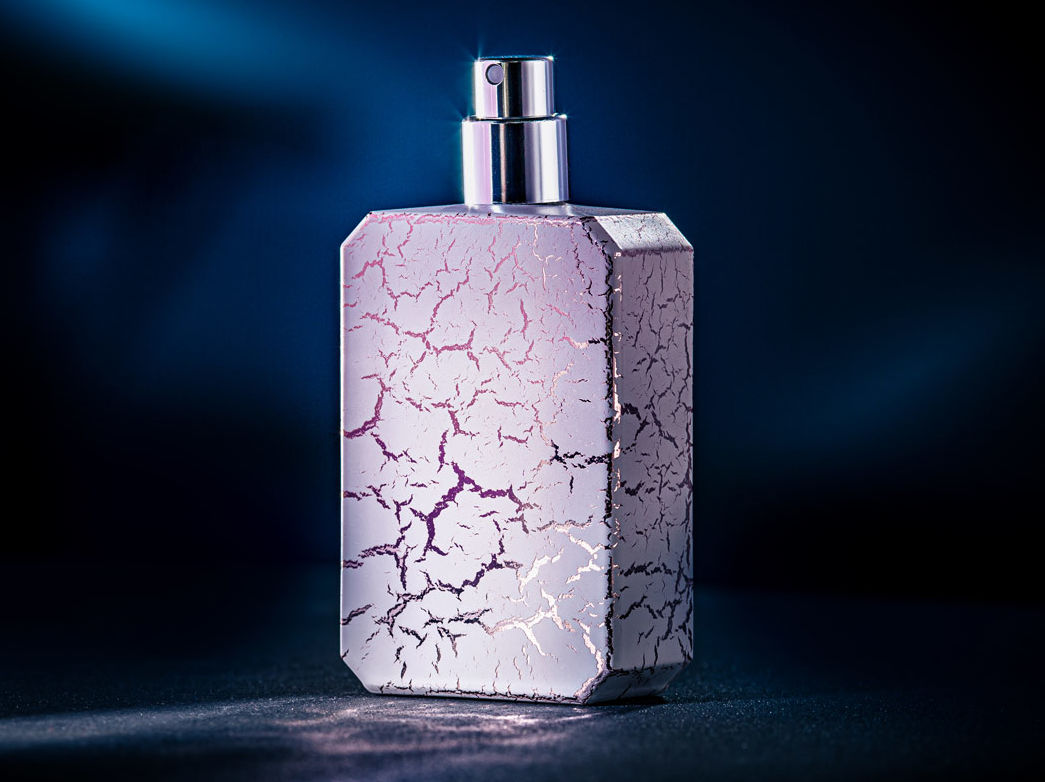 Our answer to all questions concerning sustainability. Lightweight PCR-Glass in combination with an refillable neck, waterbased laquering and nature-glitter spraying or printing. You can't get more sustainable than that.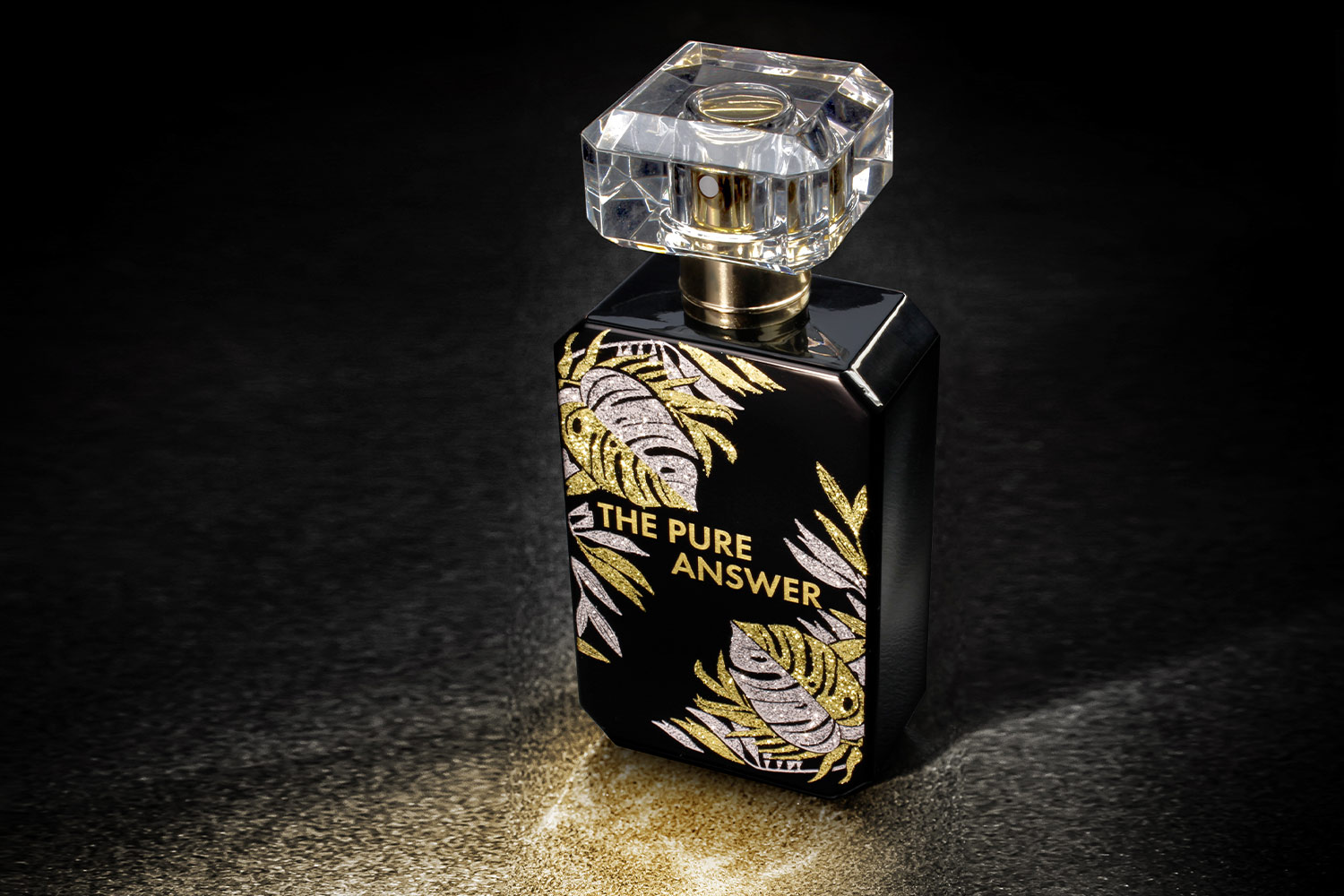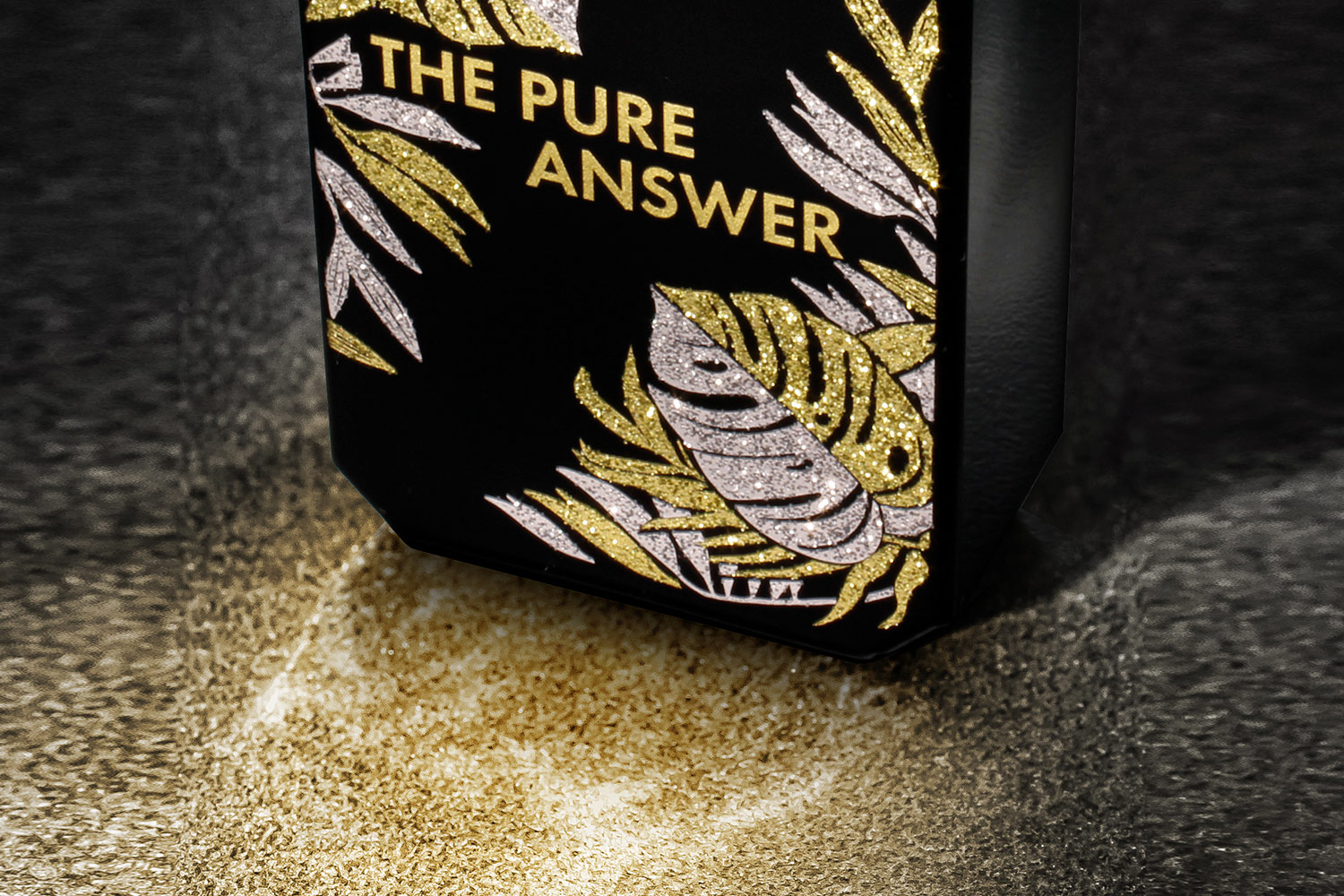 A special artwork and precise digital printing create an individual look with vintage character. By printing the front and back, a unique depth effect is created, which is especially convincing in combination with a modern, clear font.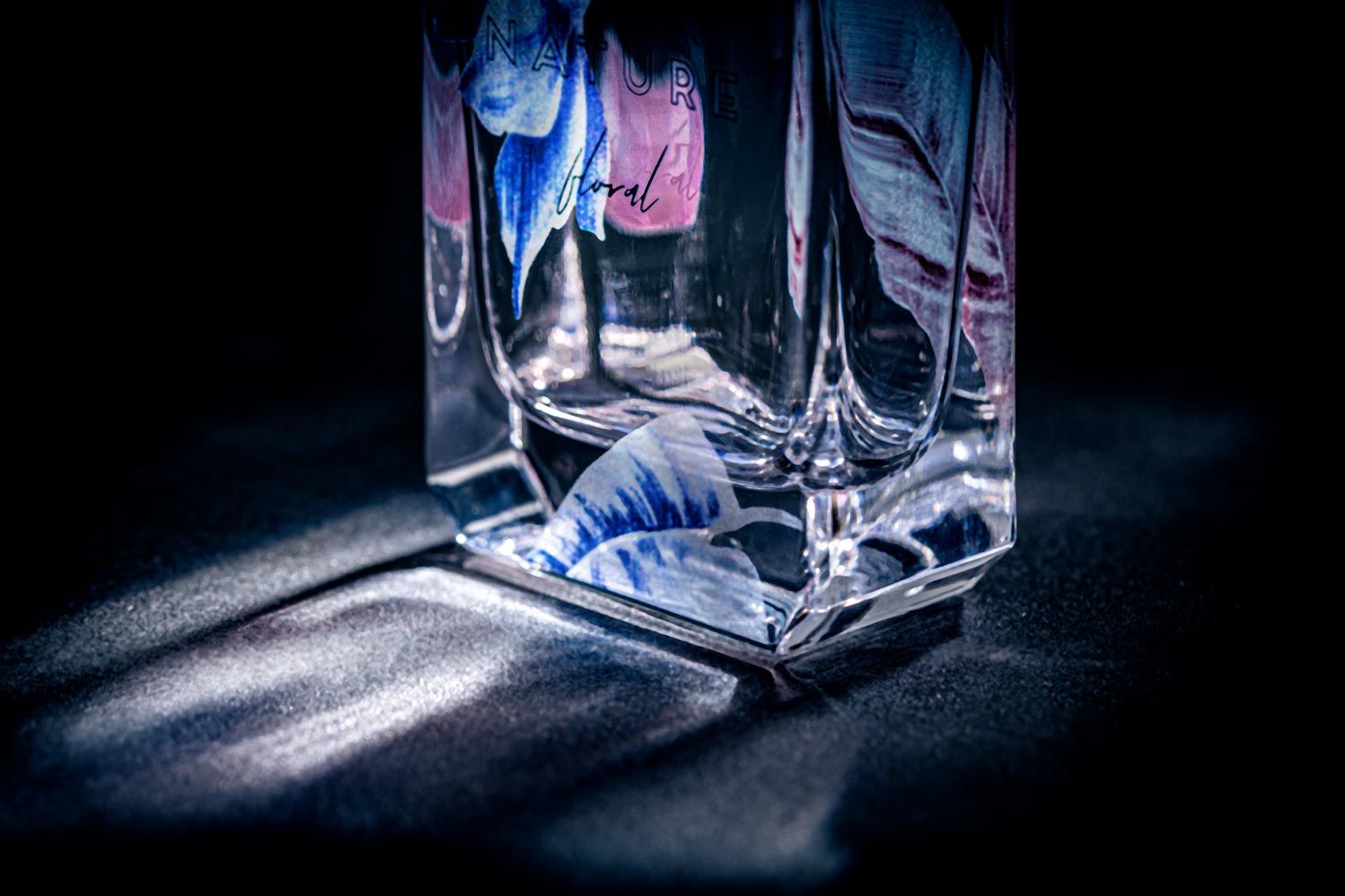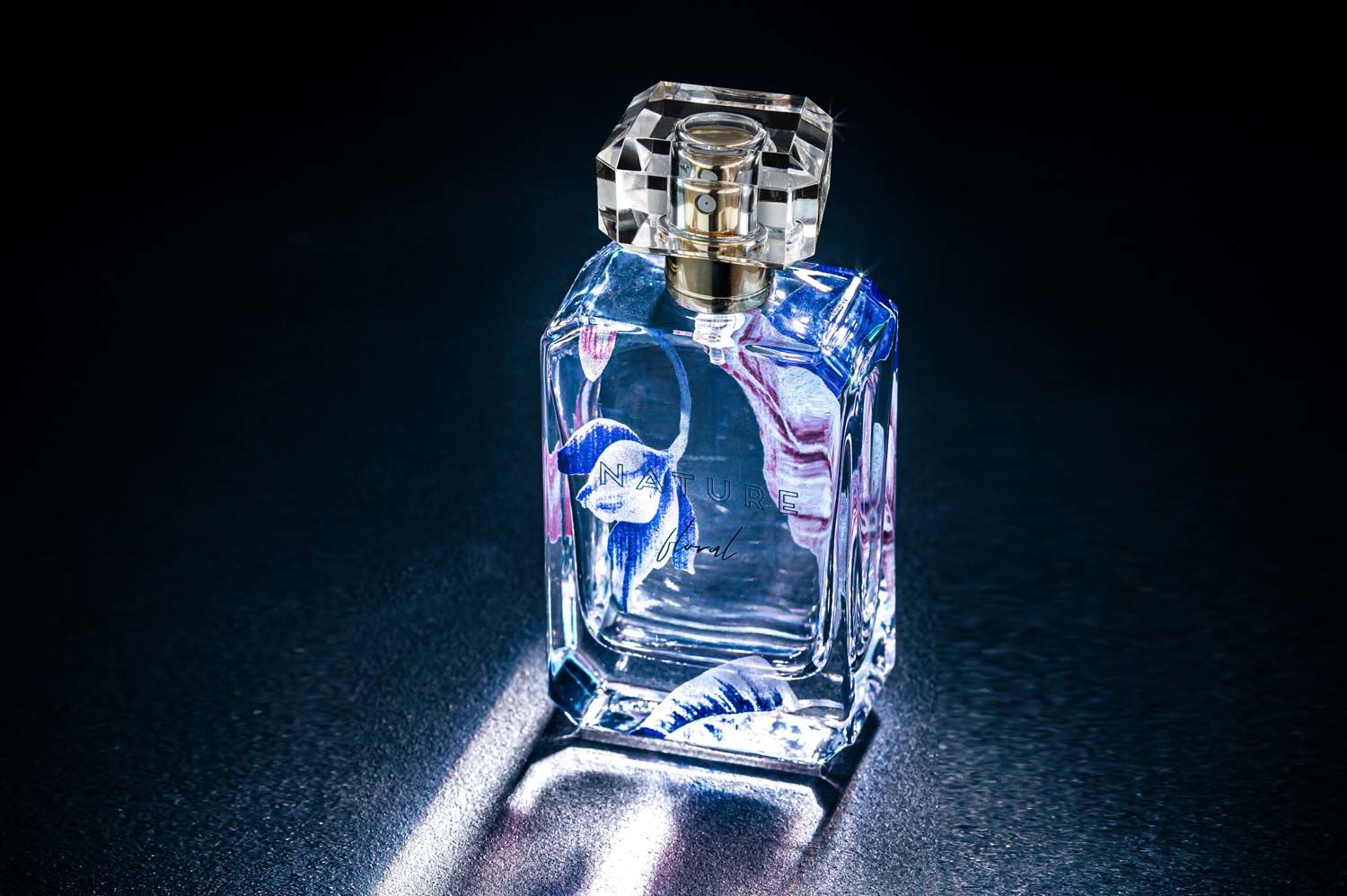 Gold and silver metallization meets partial glitter spraying and pad printing. Endless colour and glitter combinations, as sparkling as the season itself.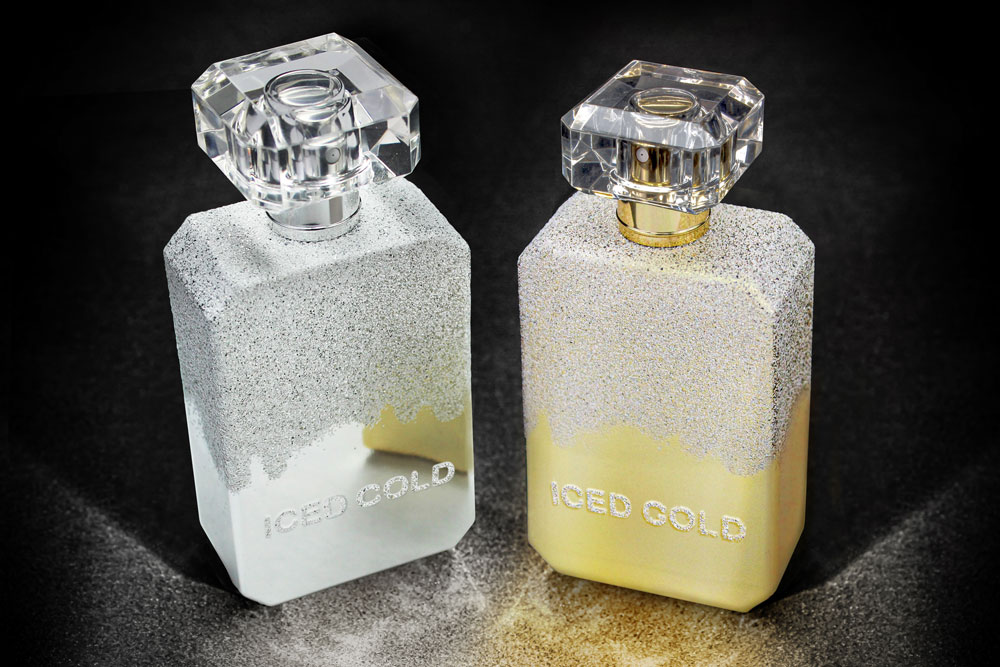 Fine structures and brilliant color meet highly precise digital printing. The result is an impressively bright play of colors and a special depth effect.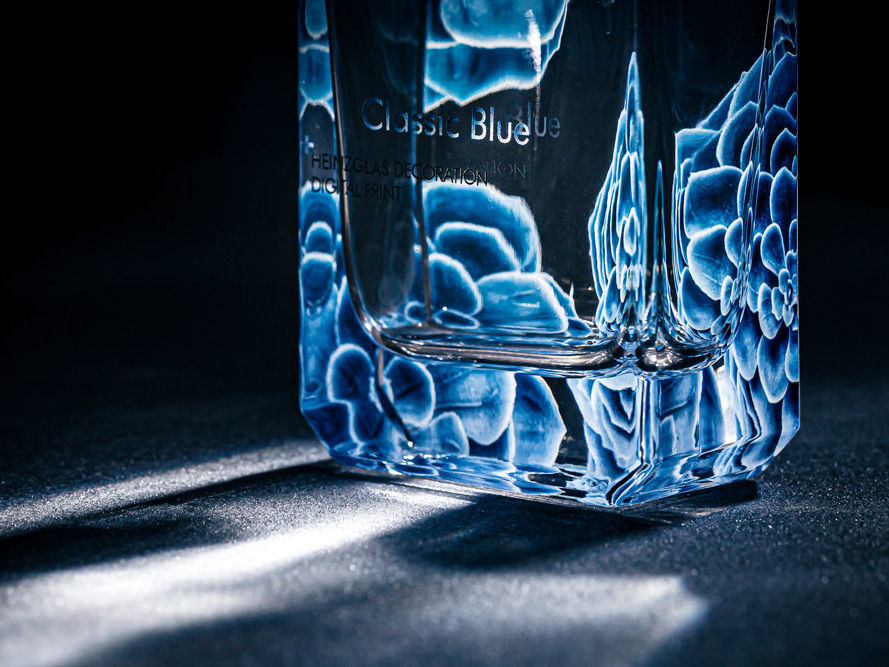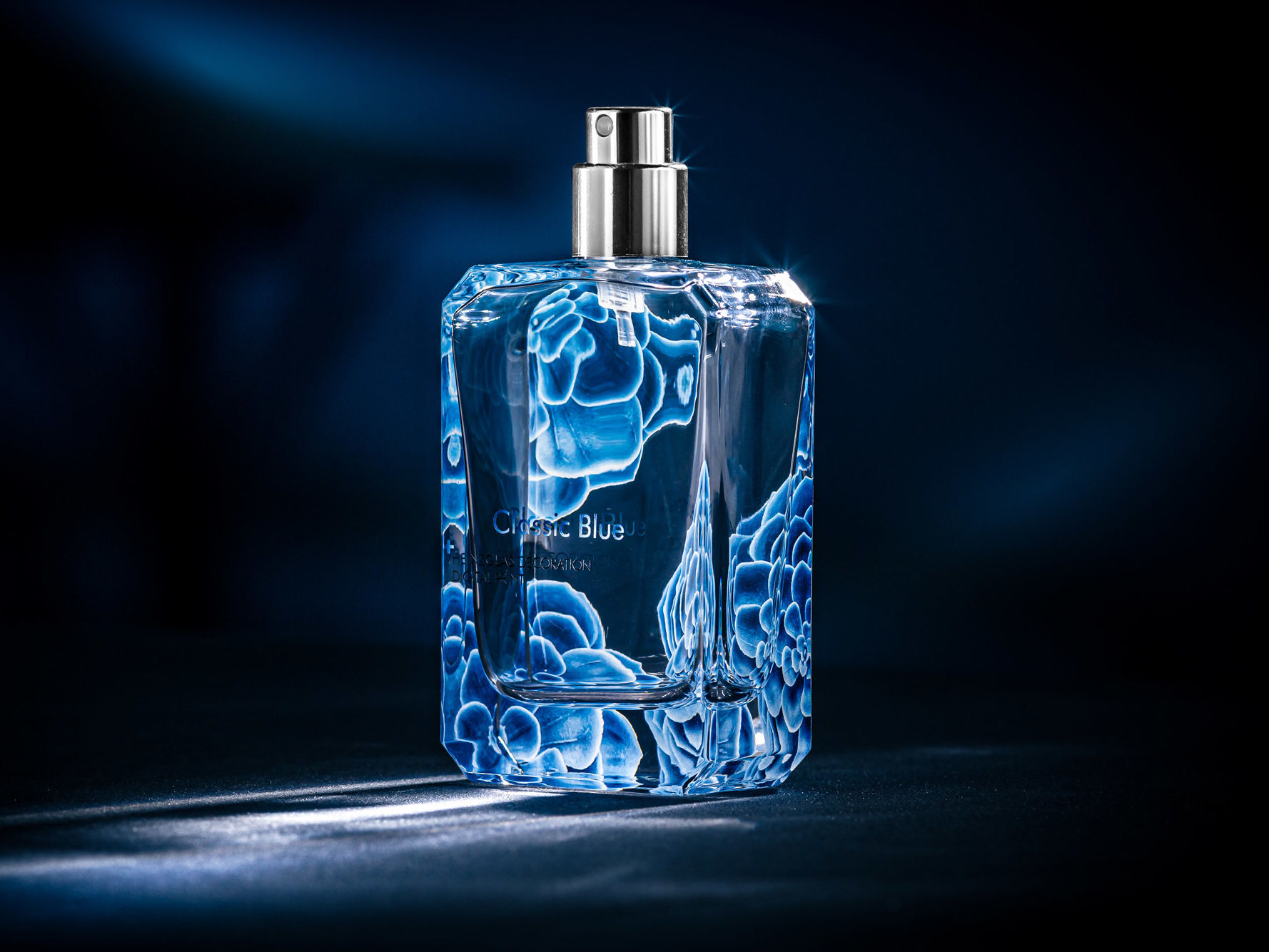 Translucent metallization in combination with a weightlessly flowing digital print on the front and back. The translucent metallization supports the colorfulness of the digital print and thus emphasizes the intensity of the color, resulting in a vibrant finish.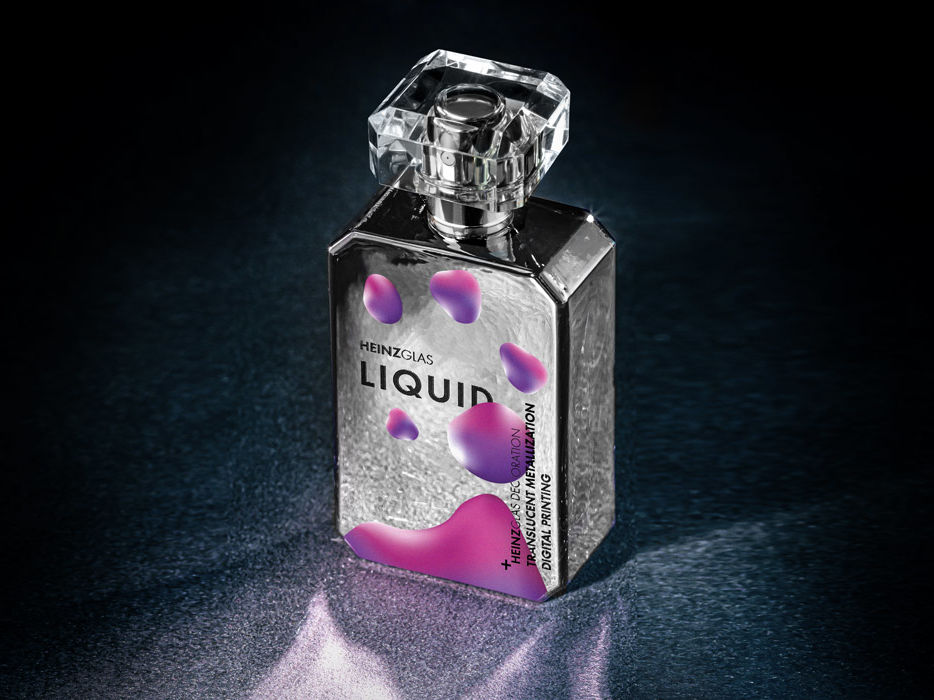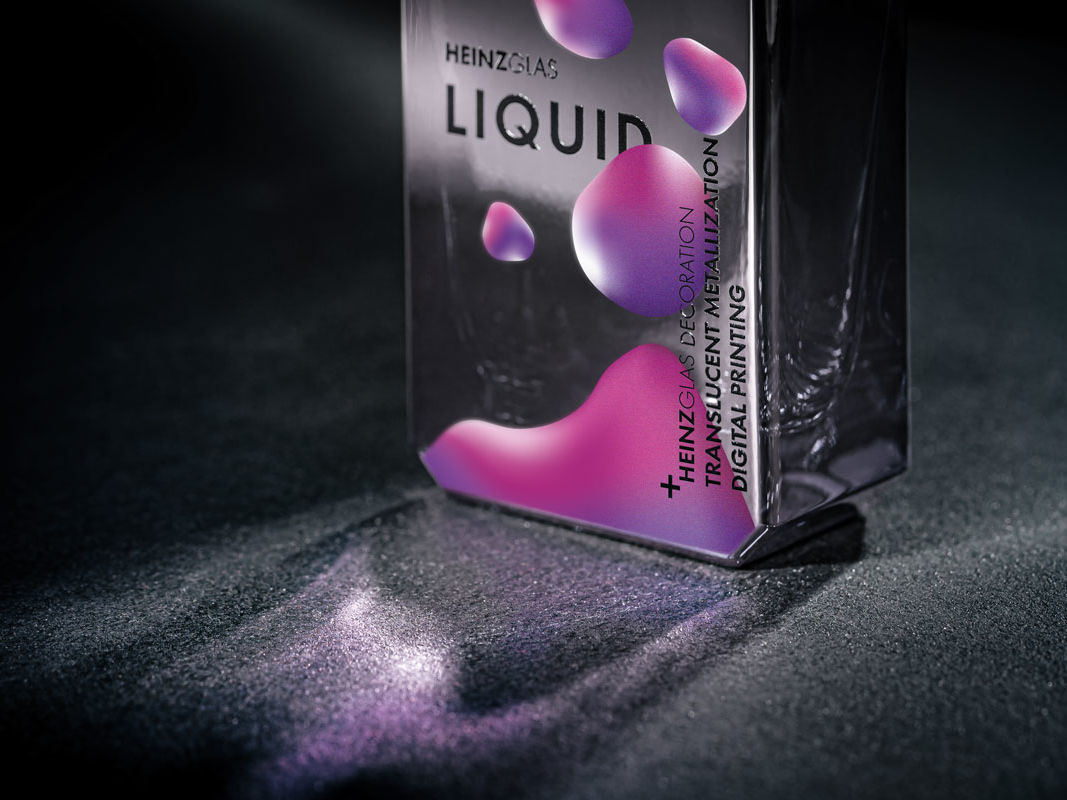 We use a special spraying technique to make glass glow. The design possibilities are endless: The effect can be created over large areas as well as partially and thus offers the possibility of bringing hidden effects to light in the dark.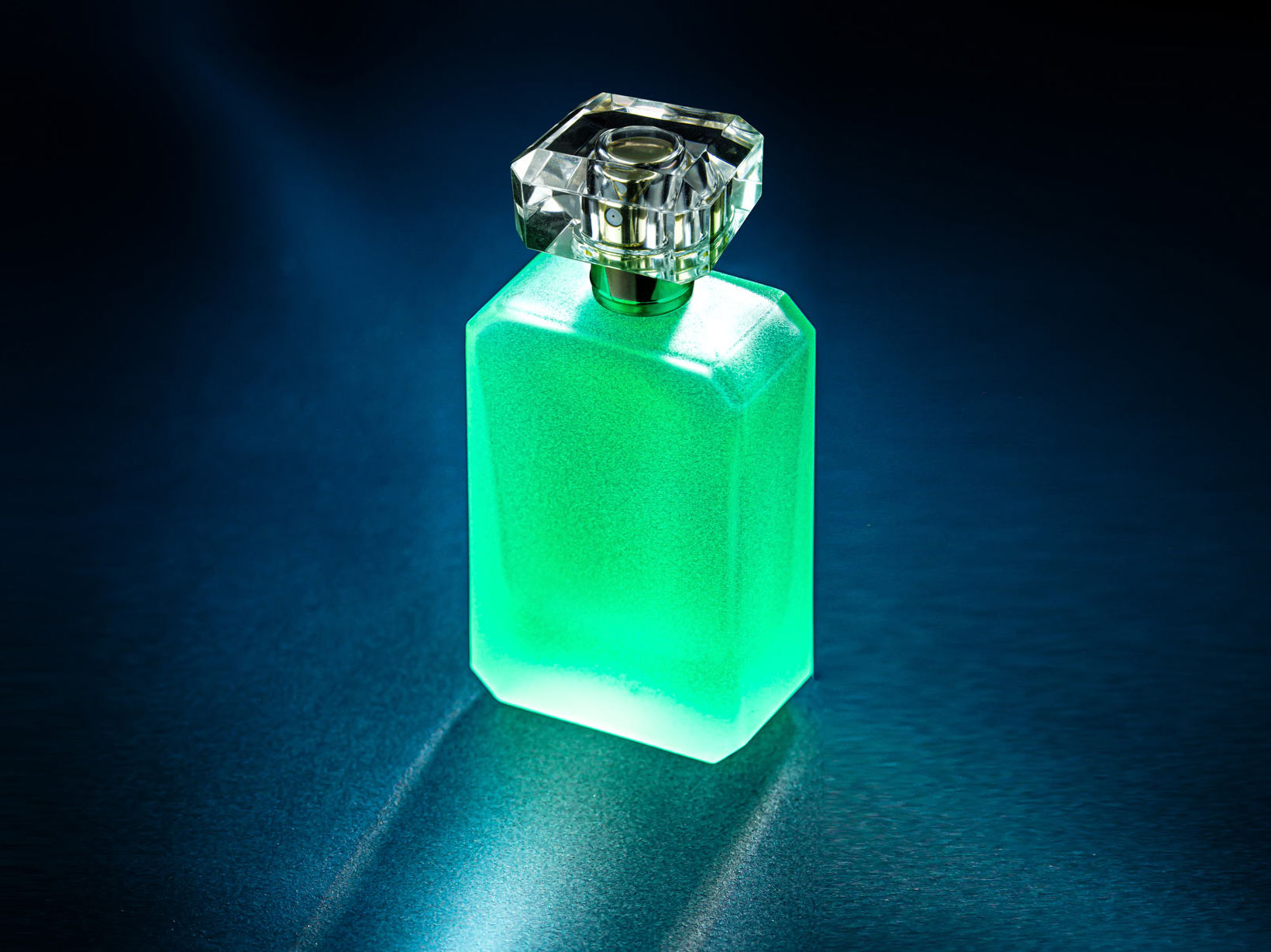 A special spraying technique and metallization in rosé gold are responsible for this flacons' icy finish. Whether metallization or colour spraying, whether full or just partial: the ice-effect technique is the perfect icy finish for every project.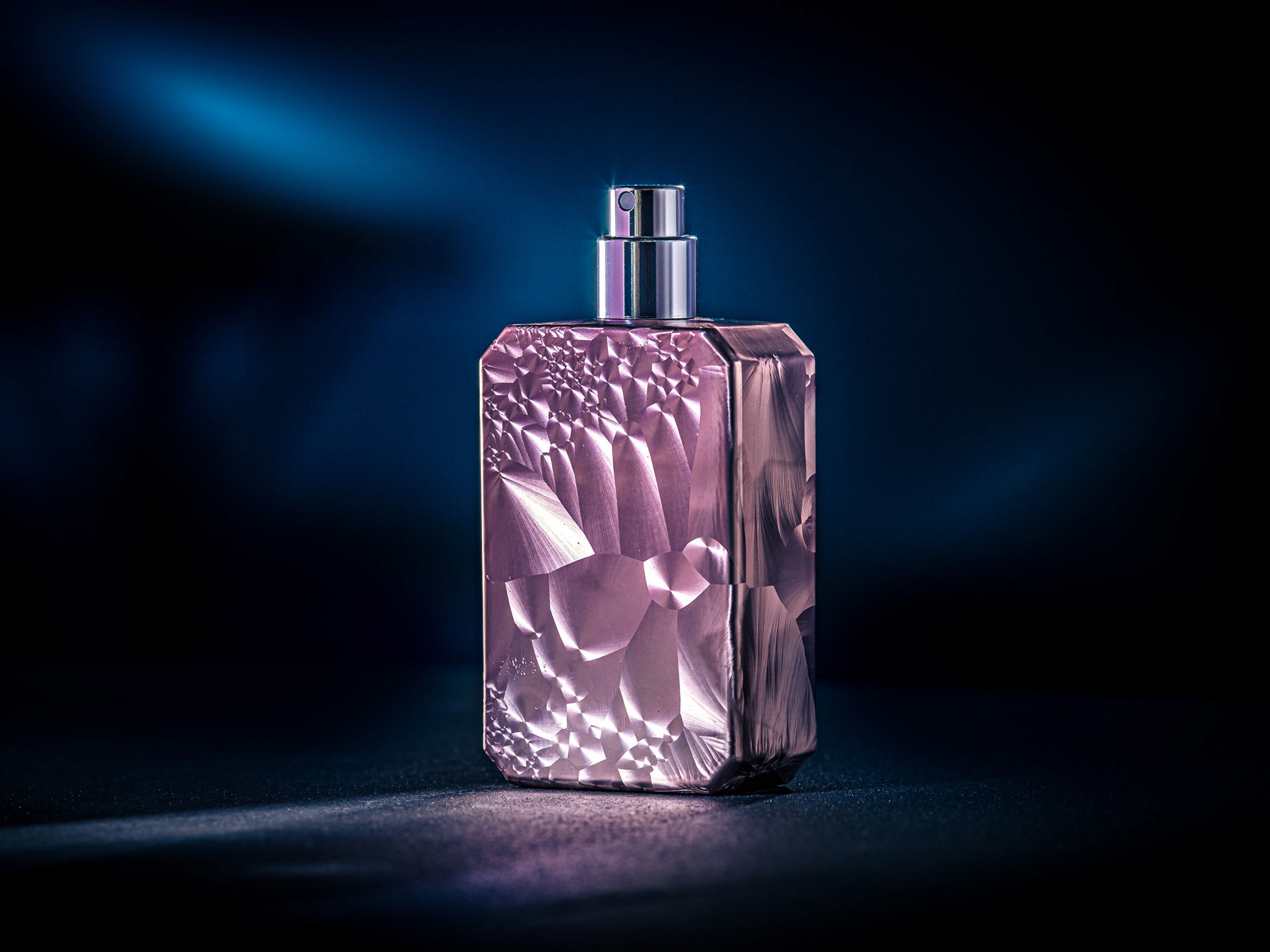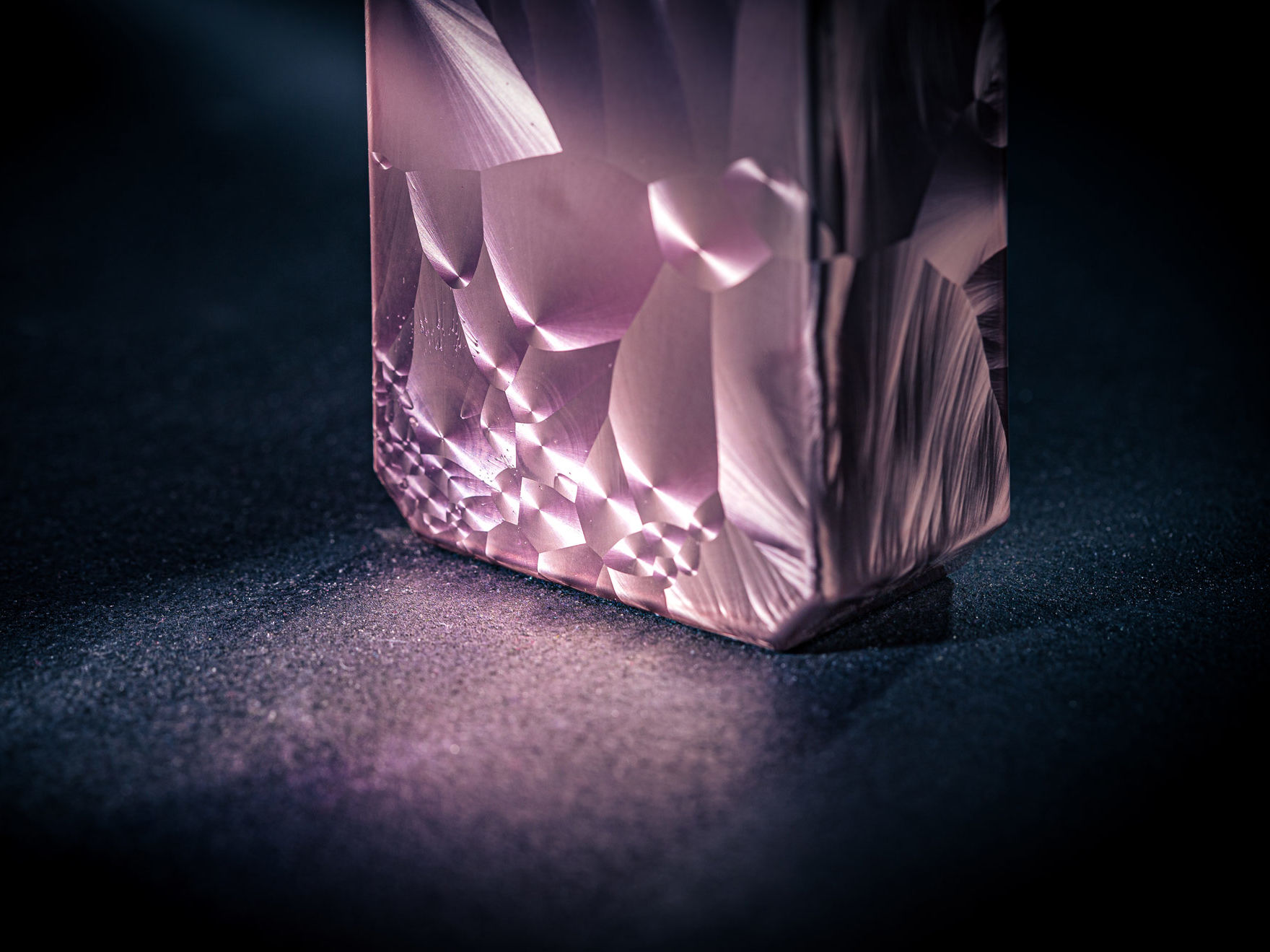 Eco Powder Compact
With "Eco Powder Compact", the HEINZ-GLAS Group presents a proven product in a sustainable, luxurious version. The newly developed Powder Compact consists of a slim glass jar made of high-quality, sustainable PCR glass, produced with CO2-free energy plus recycled lime and a screw-on, hinged top made of recycled plastic with space for an internal mirror and a powder puff. The technical challenge in creating the Eco Powder Compact was to achieve the smallest possible deviation in terms of diametre and height of existing beauty products of this kind. The system is refillable with standard powder pans, so when refilling, only the product itself needs to be replaced, not the outer packaging. This gives the consumer the option of putting together his or her own product from various combinations. Another advantage is the protective function of the glass for the product inside. The sturdy glass in the lower part of the Eco Powder Compact protects the product inside from bumps and shocks.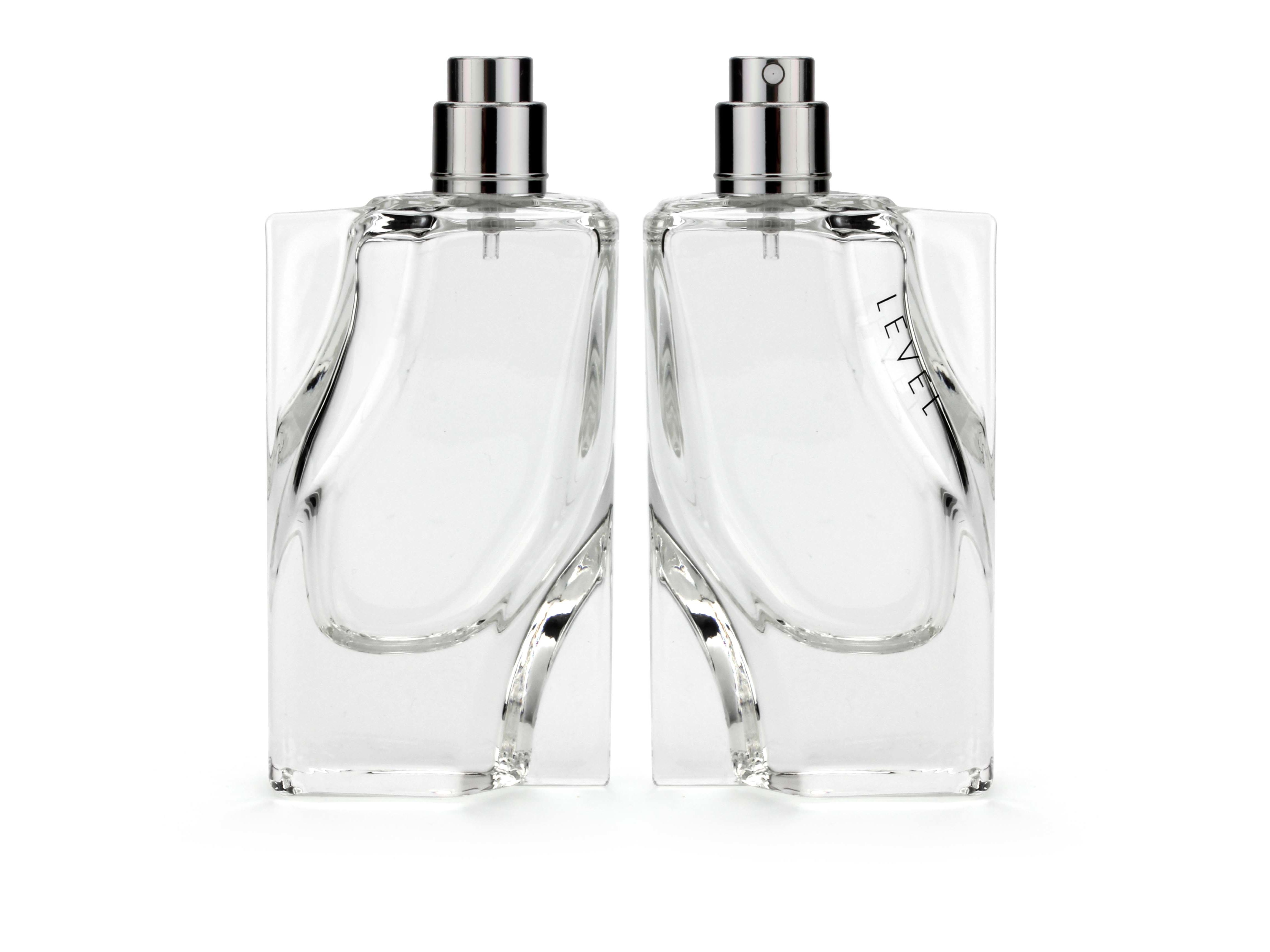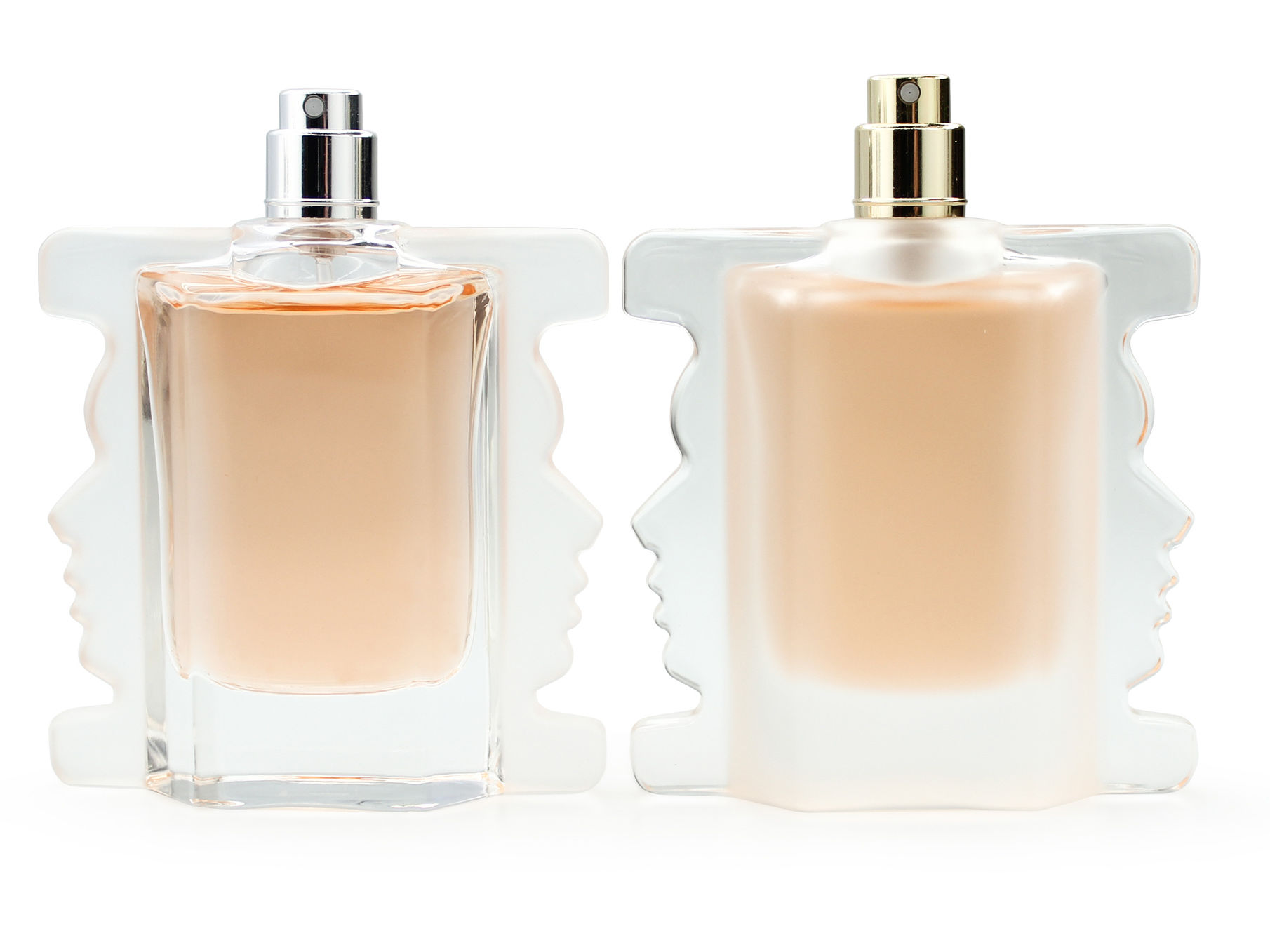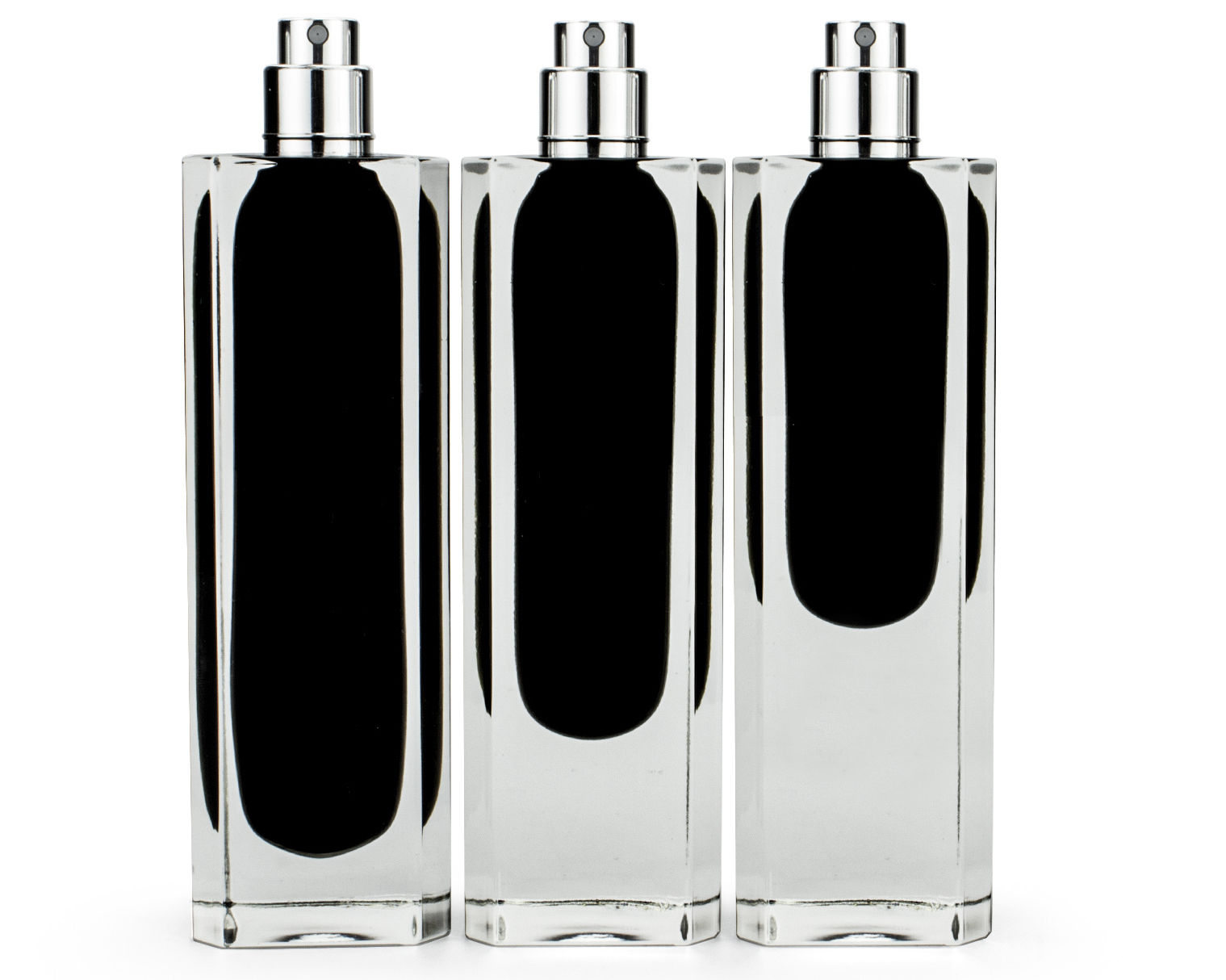 digital solutions
Glassmaking will always remain our passion.
Sand, soda and lime are always our working materials of choice.
For HEINZ-GLAS, however, supplementing all this with bits and bytes is not a contradiction. But rather the way to opening a new dimension in glass.
TimesSquare, smARtglass and Virtual Designer:
three names, three building blocks of how HEINZ-GLAS is meeting the requirements of an increasing digitalized (beauty) world.
Times square
Launched in 2017, Times Square was the first step into the smart glass making future.
A digital perfume bottle with many facetts: story teller, memory keeper, messenger, picture frame, …
integrated 2.4'' display and speaker
USB port for personalized media
rechargable
music, videos, pictures
refillable through thread neck
smARtglass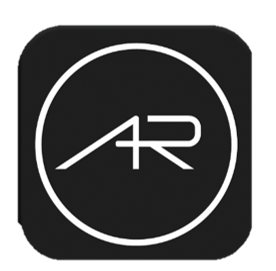 Developing the next dimension of glass by using augmented reality.
Creating a unique product experience through additional sensory input.
Enabling new ways of product design and packaging