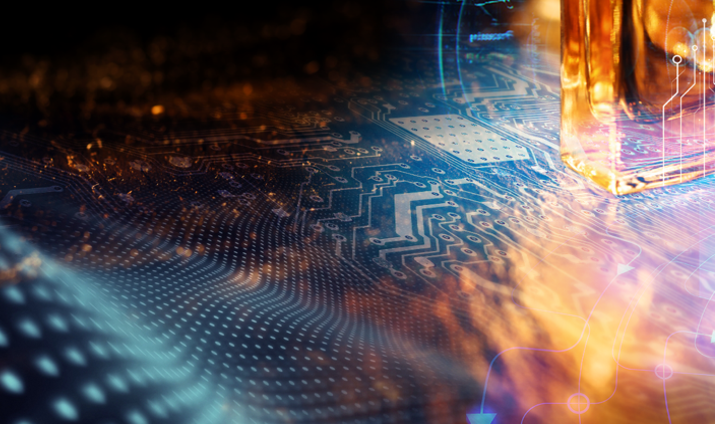 Haute Couture de Décoration
For us, decoration is not only a variety of finishing methods, but above all the creation of a beautiful, unique dress for every kind of product.
Therefore we are happy to present our new decoration series "Haute Couture by HEINZ-GLAS". The combination of different finishing options creates unique designs on flacons, as special as famous haute couture fashion!
In the coming months, we will present one specially decorated flacon each, developed, produced and finished by HEINZ-GLAS.
More Information: designovation@heinz-glas.com
The combination of digital printing and partial flockage offers endless variations. By additionally flocking special areas of the digital print, a unique depth effect is created that can also be felt haptically. Whether it's lettering, geographic shapes or natural effects, the flockage additionally highlights special elements of the finishing.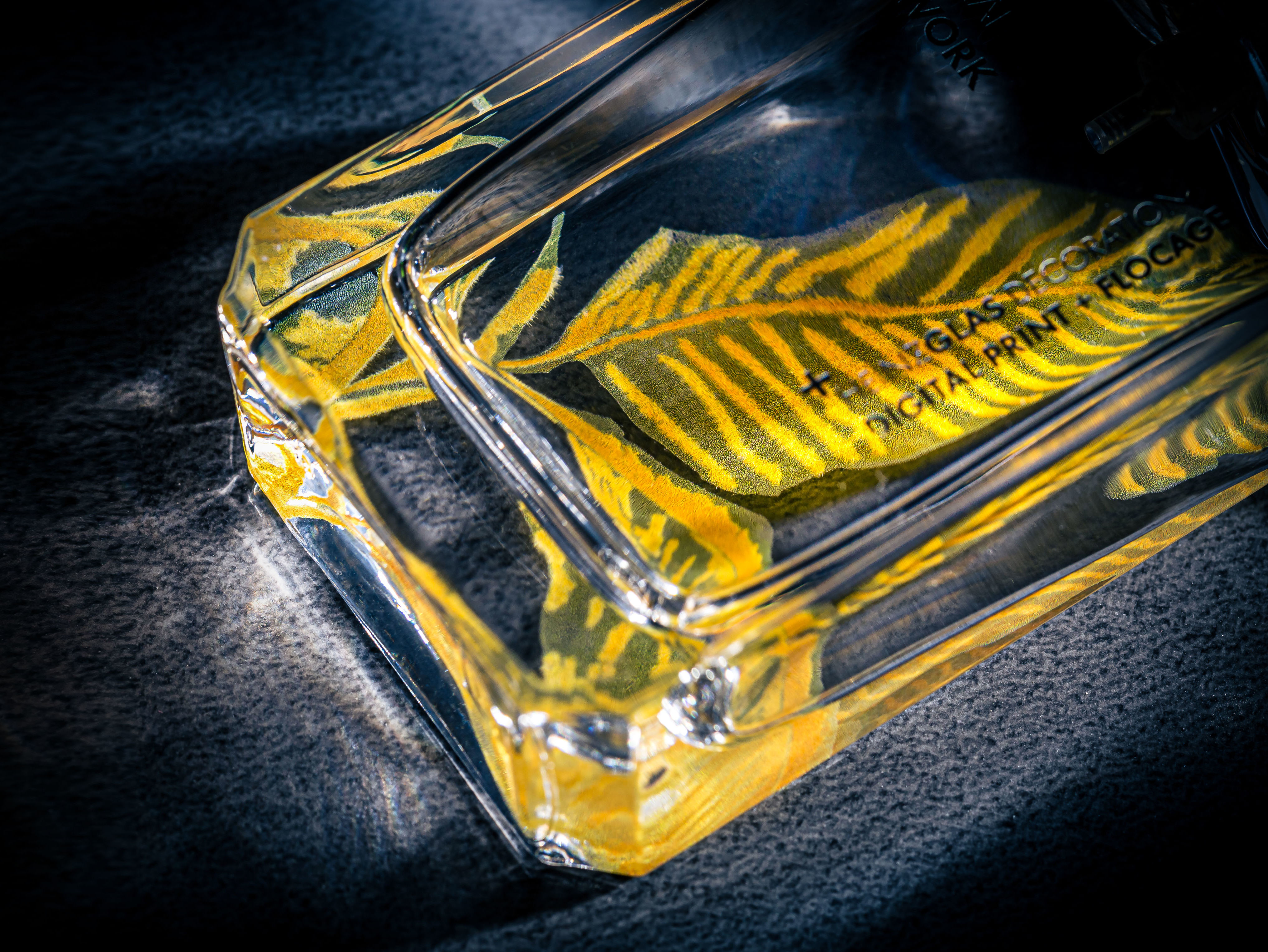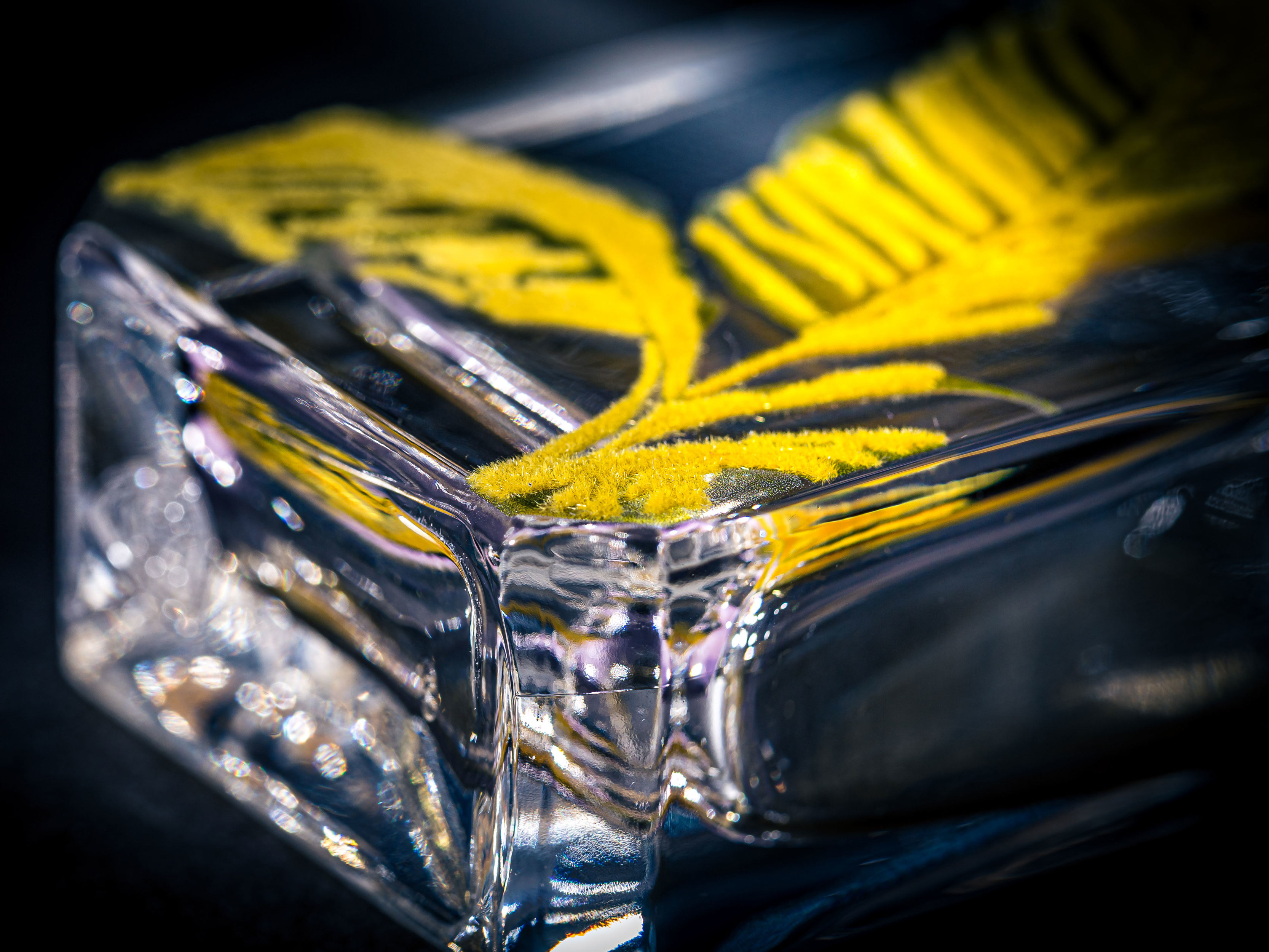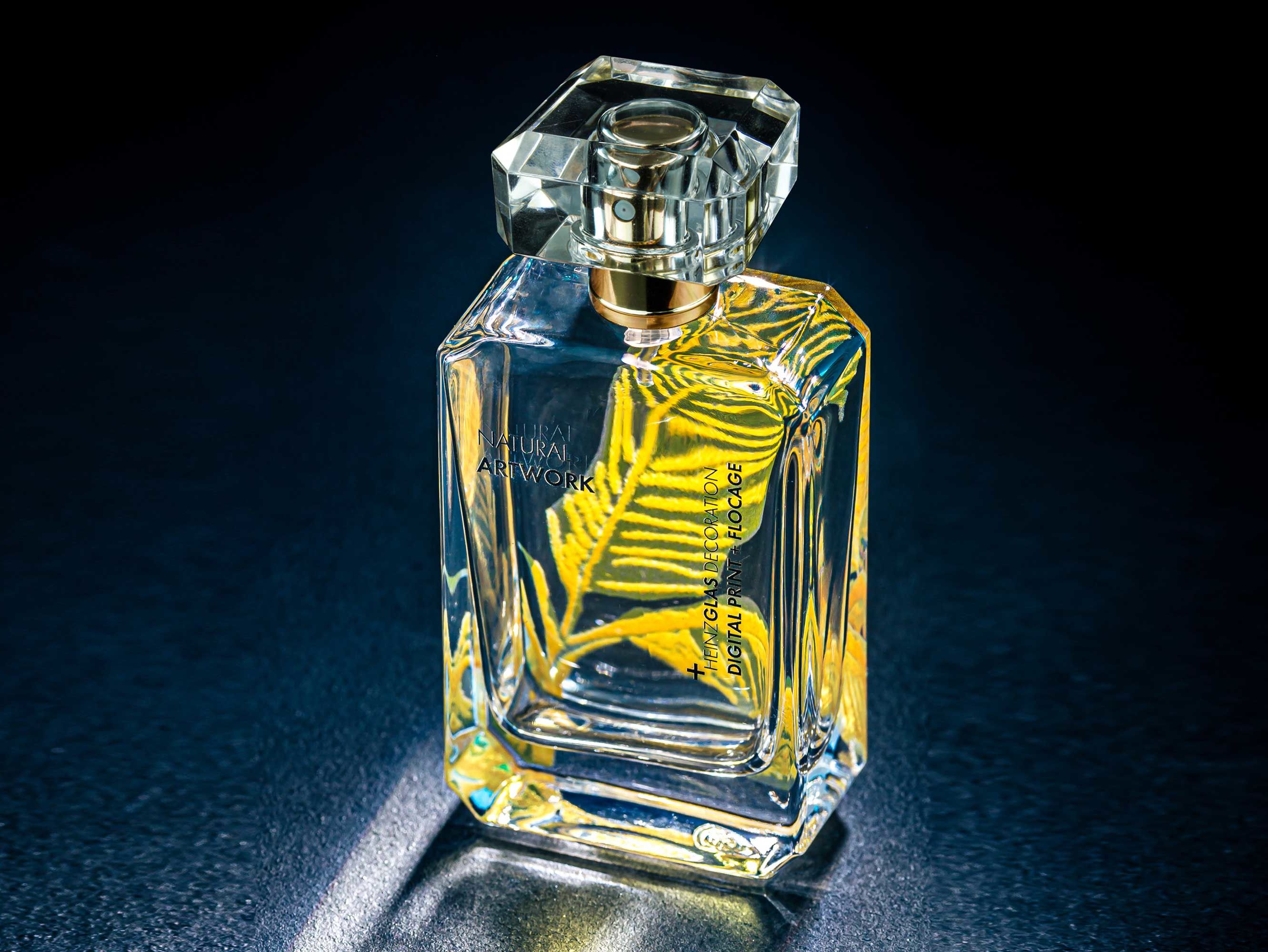 The digital print applied here is characterized by the creation of a relief, which makes the imprint on the surface haptically perceptible. In this example, the effect of a paper label can be applied to the surface very easily and flexibly. This finishing option is particularly interesting for all kinds of structures or lettering imprints.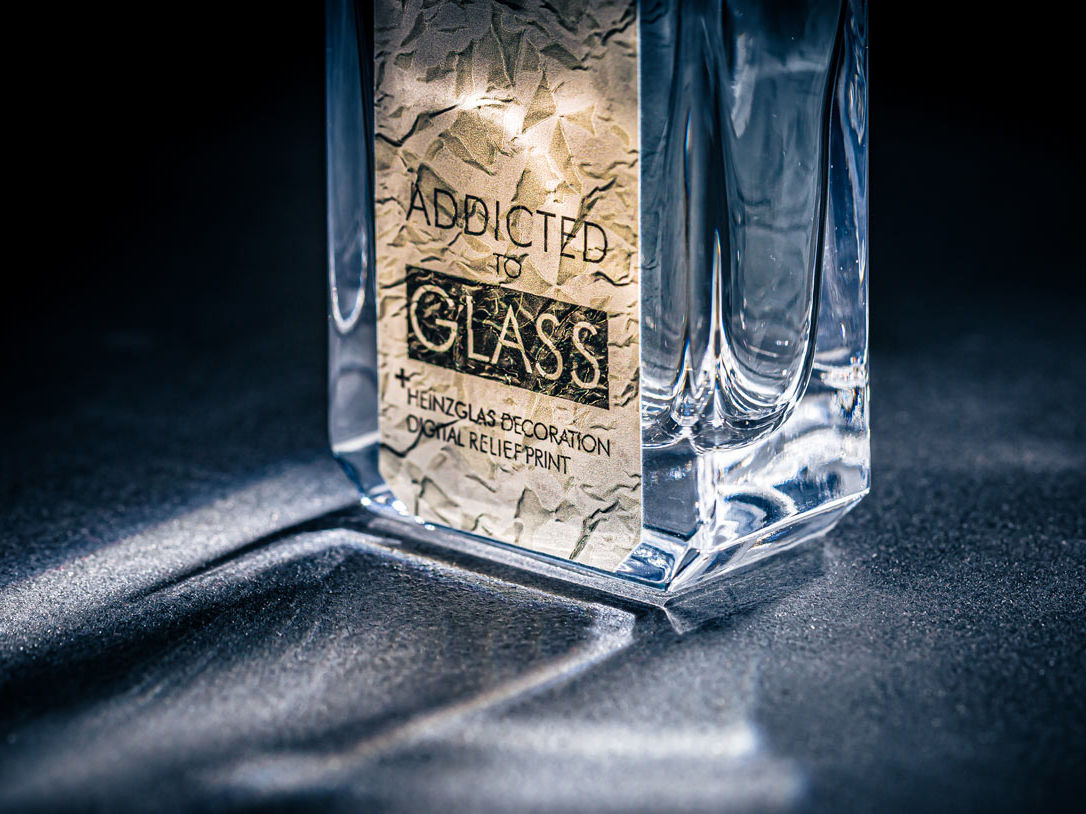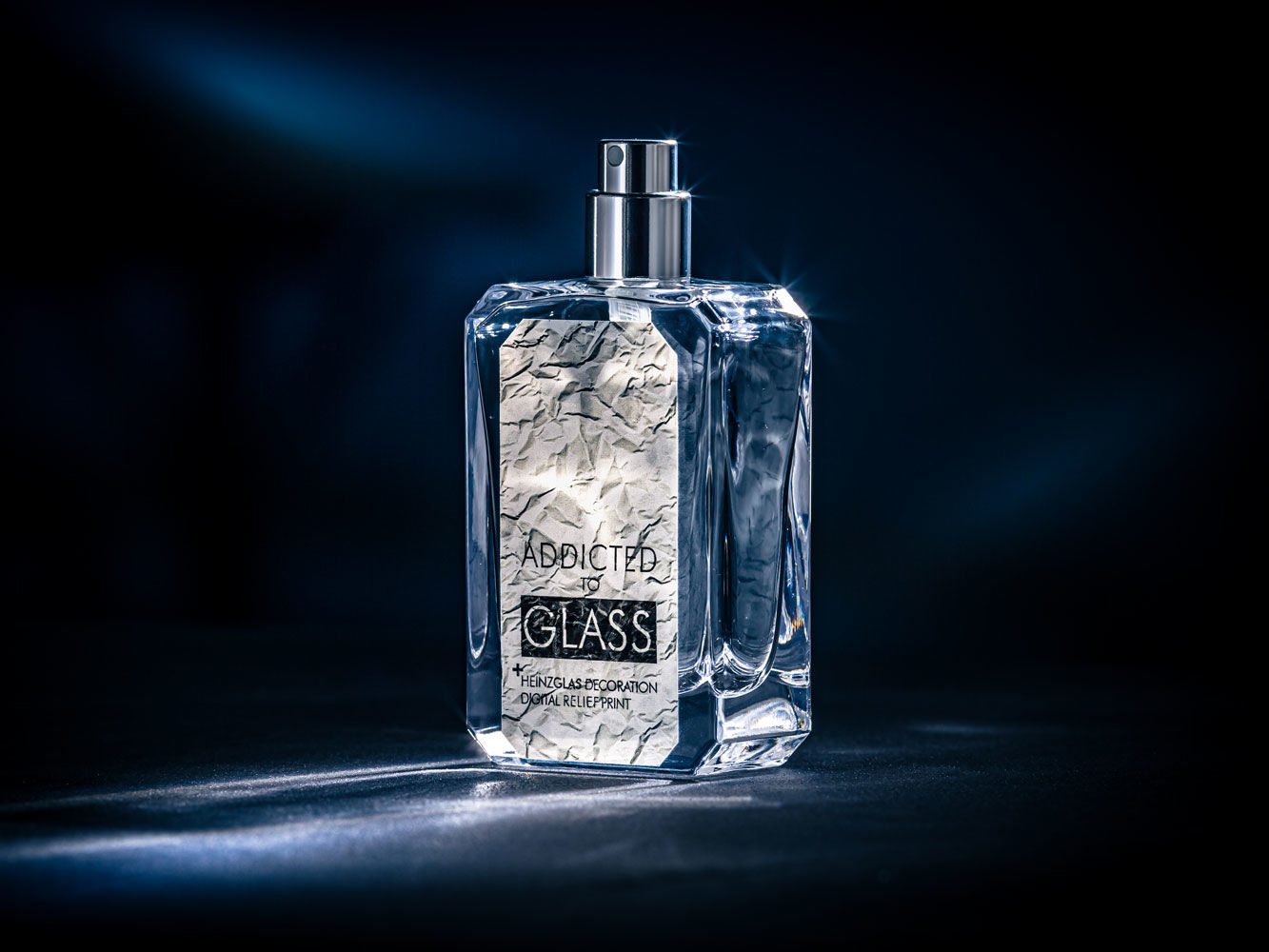 Whether metallization or color spraying as a base, a crackle varnish adds a special effect to any spray coating. The color and combination possibilities are huge, and the crinkle effect can be applied both partially and over the entire surface.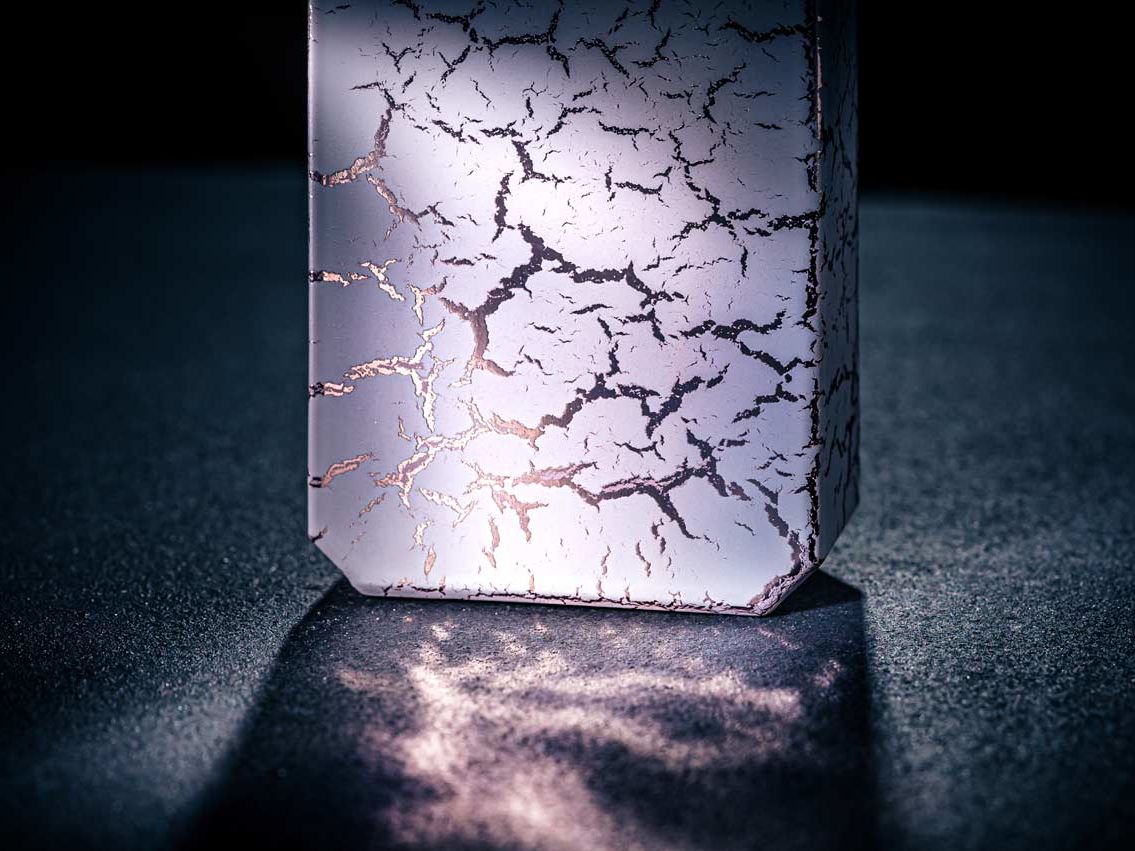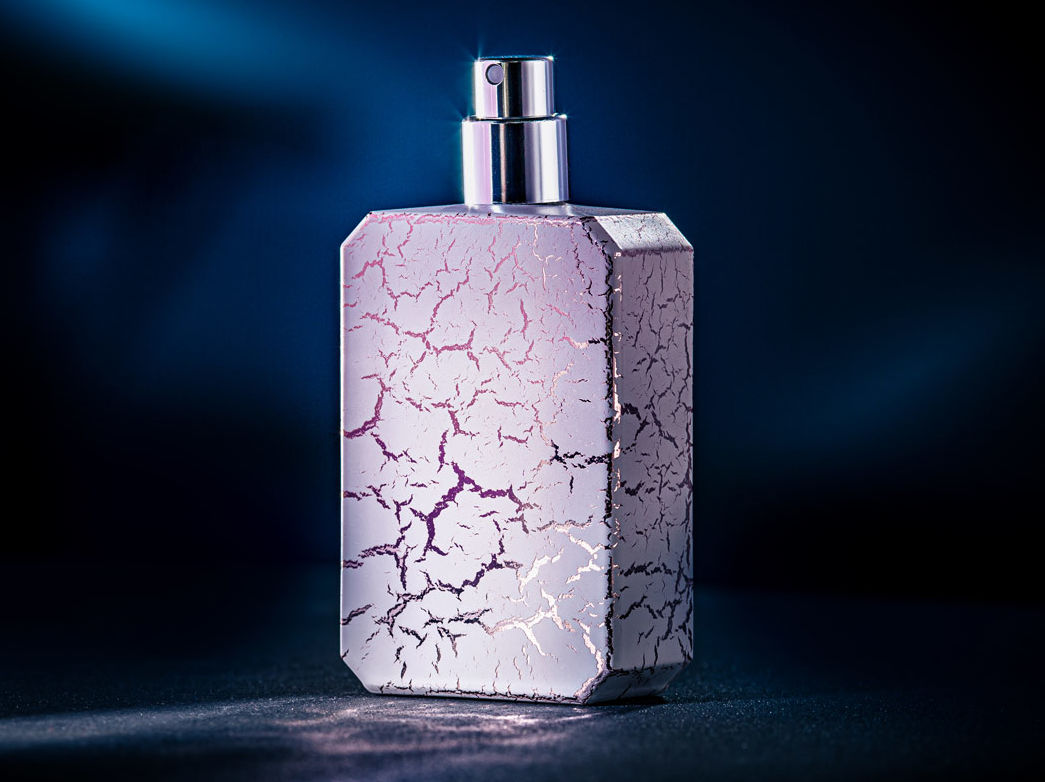 Our answer to all questions concerning sustainability. Lightweight PCR-Glass in combination with an refillable neck, waterbased laquering and nature-glitter spraying or printing. You can't get more sustainable than that.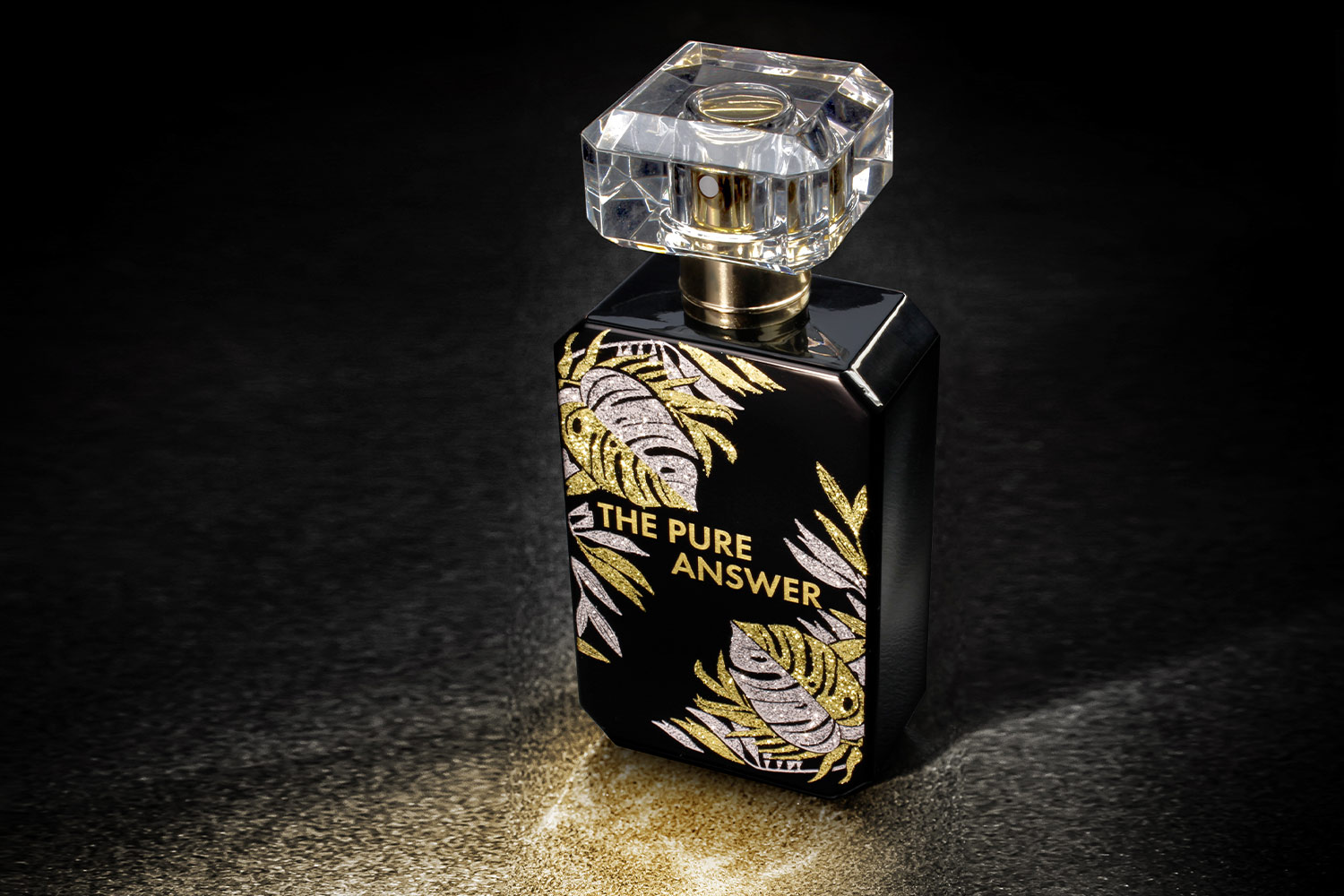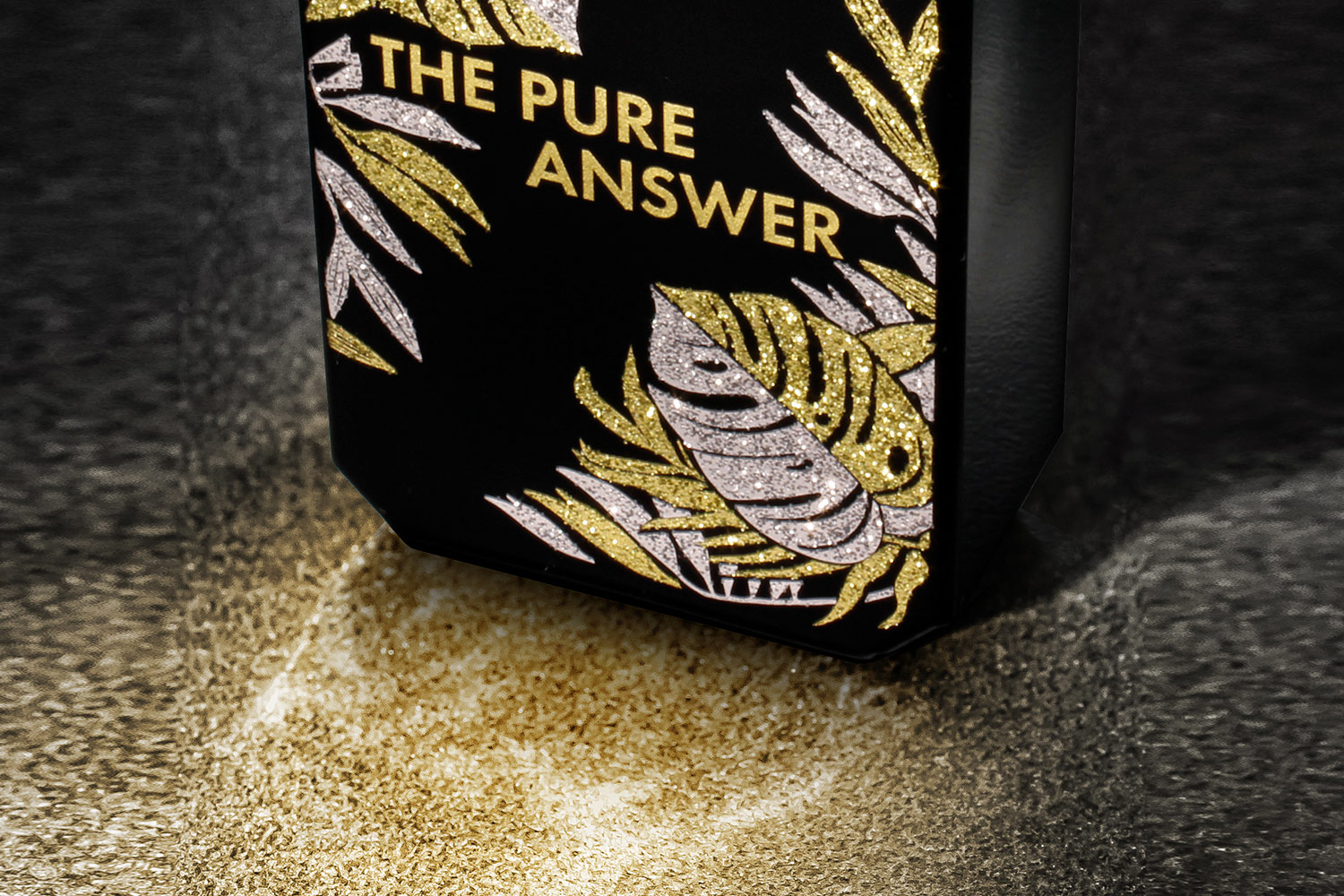 A special artwork and precise digital printing create an individual look with vintage character. By printing the front and back, a unique depth effect is created, which is especially convincing in combination with a modern, clear font.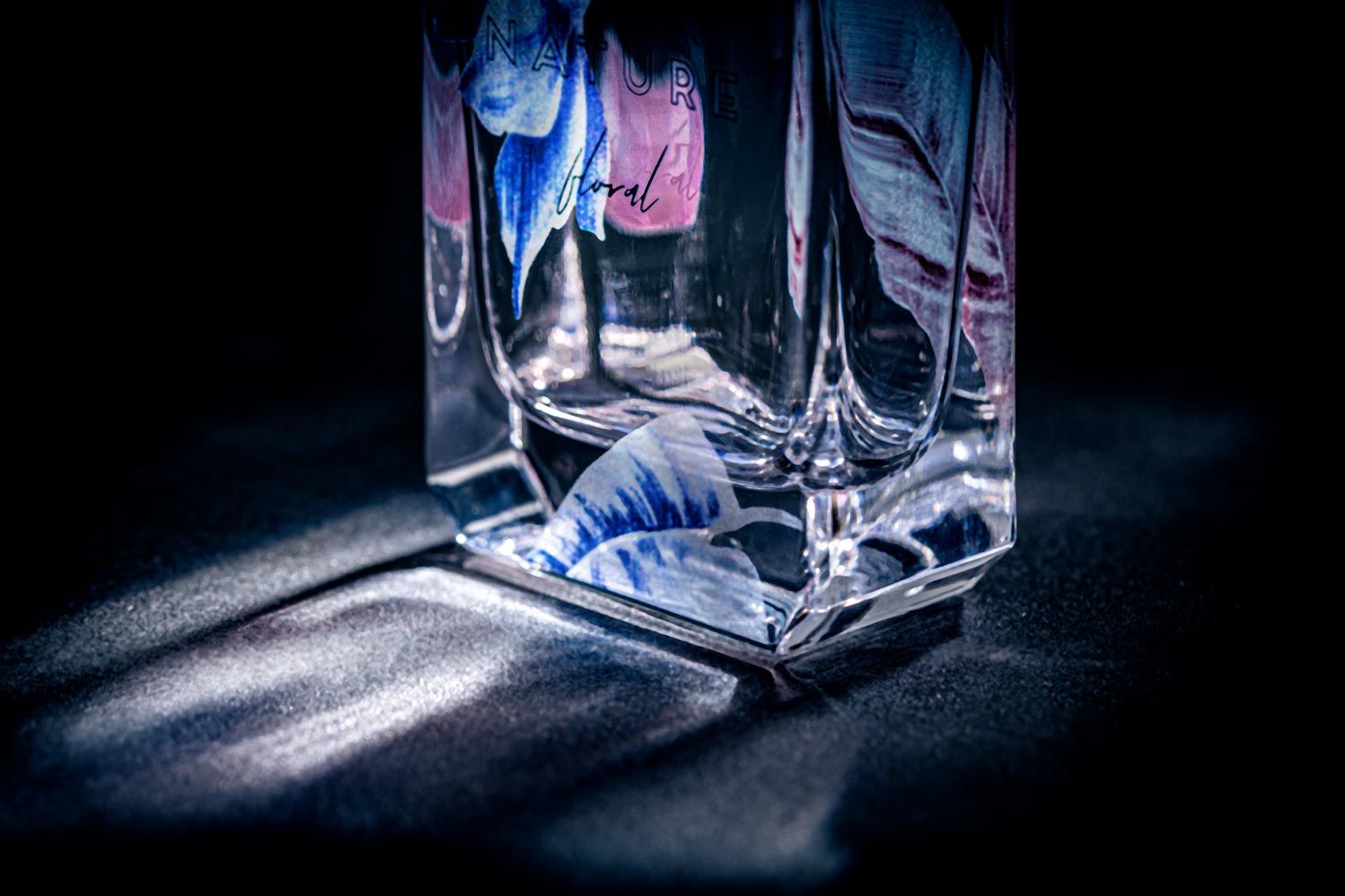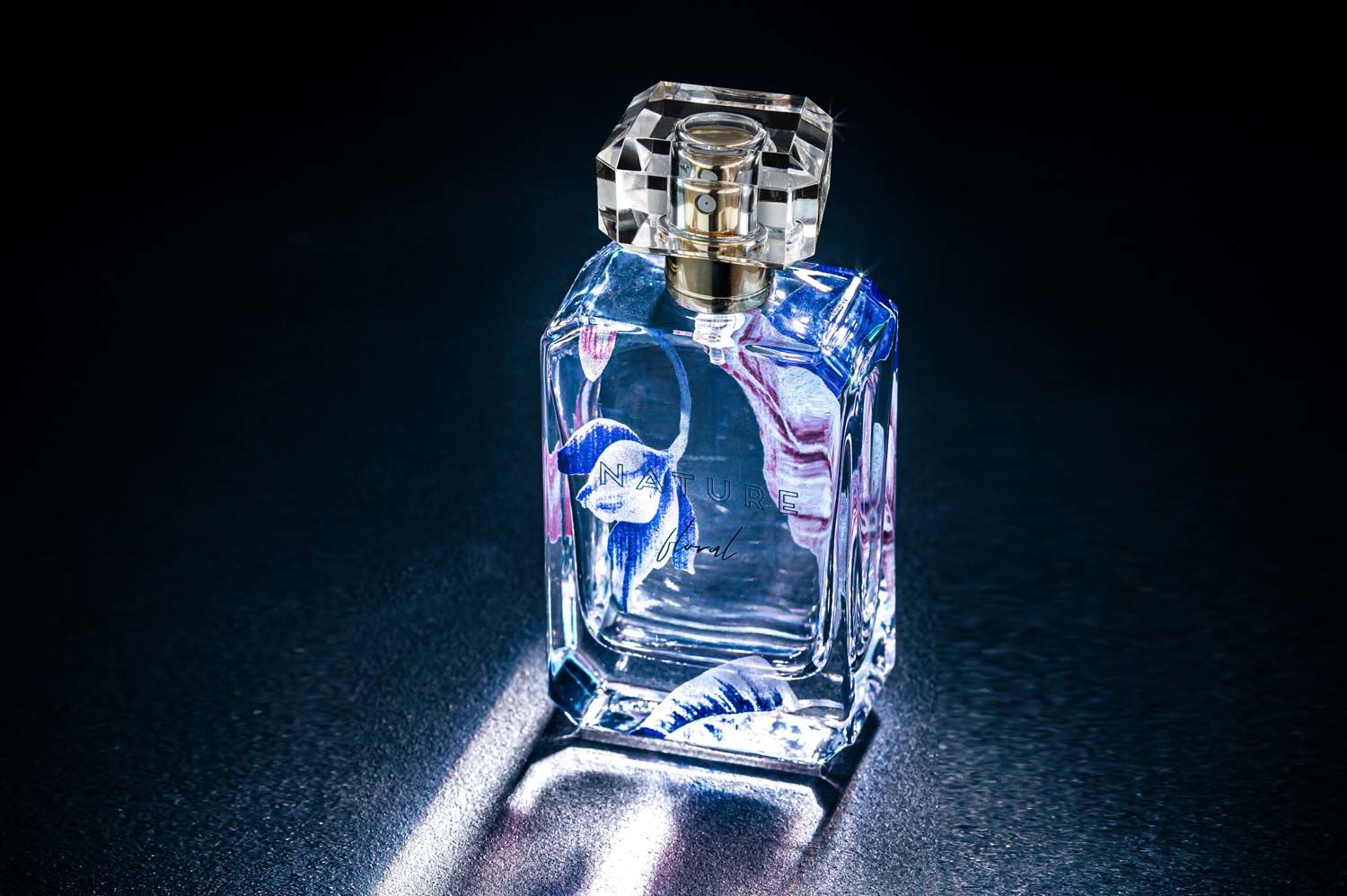 Gold and silver metallization meets partial glitter spraying and pad printing.
Endless colour and glitter combinations, as sparkling as the season itself.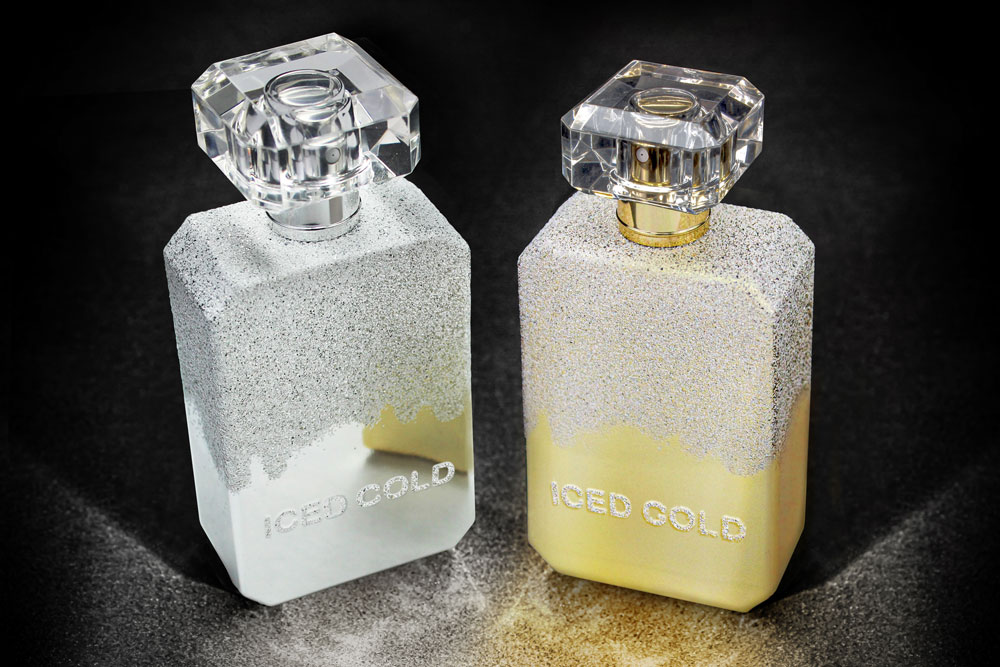 Eco Powder Compact
With "Eco Powder Compact", the HEINZ-GLAS Group presents a proven product in a sustainable, luxurious version. The newly developed Powder Compact consists of a slim glass jar made of high-quality, sustainable PCR glass, produced with CO2-free energy plus recycled lime and a screw-on, hinged top made of recycled plastic with space for an internal mirror and a powder puff. The technical challenge in creating the Eco Powder Compact was to achieve the smallest possible deviation in terms of diametre and height of existing beauty products of this kind. The system is refillable with standard powder pans, so when refilling, only the product itself needs to be replaced, not the outer packaging. This gives the consumer the option of putting together his or her own product from various combinations. Another advantage is the protective function of the glass for the product inside. The sturdy glass in the lower part of the Eco Powder Compact protects the product inside from bumps and shocks.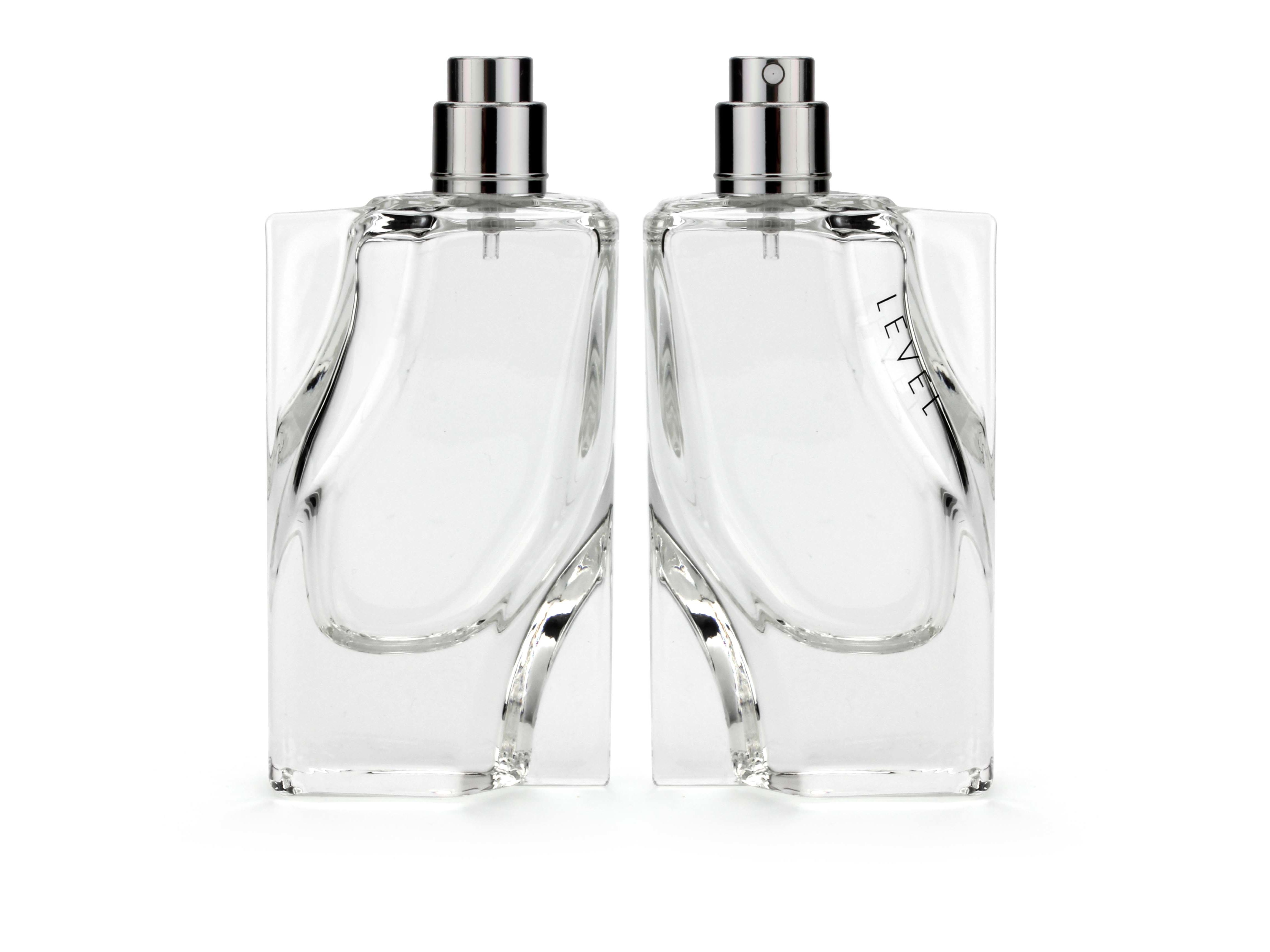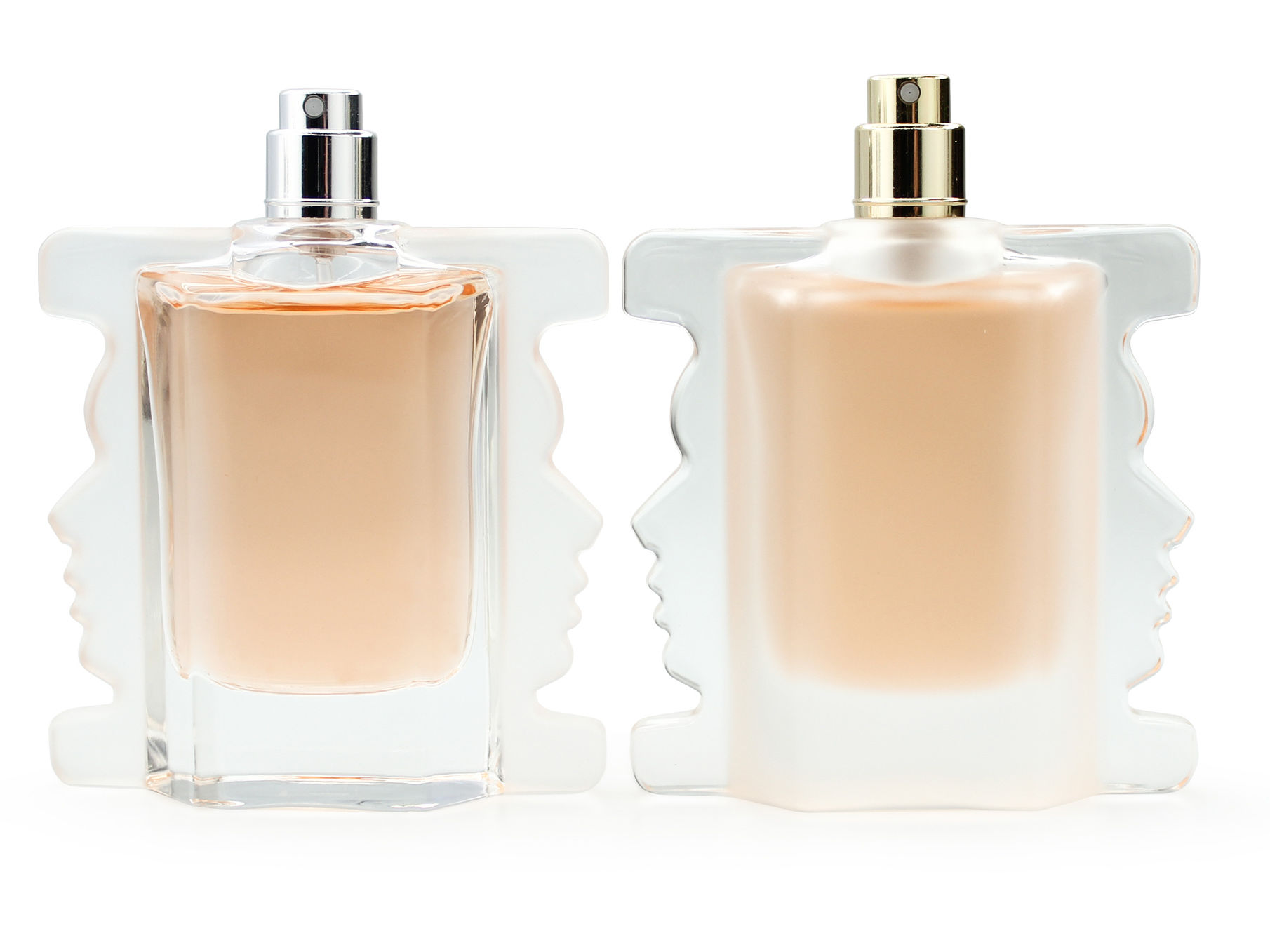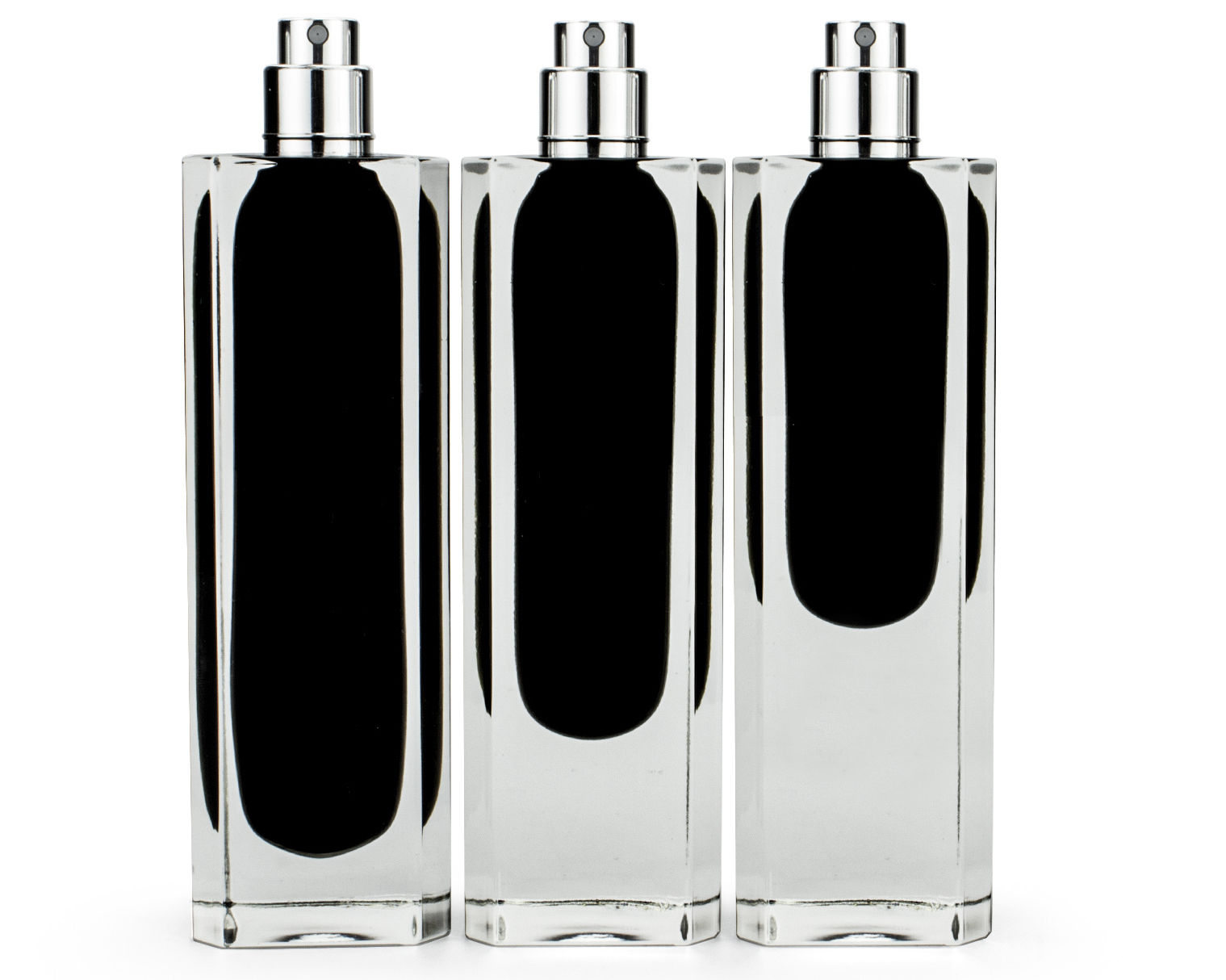 digital solutions
Glassmaking will always remain our passion.
Sand, soda and lime are always our working materials of choice.
For HEINZ-GLAS, however, supplementing all this with bits and bytes is not a contradiction. But rather the way to opening a new dimension in glass.
TimesSquare, smARtglass and Virtual Designer:
three names, three building blocks of how HEINZ-GLAS is meeting the requirements of an increasing digitalized (beauty) world.
Times square
Launched in 2017, Times Square was the first step into the smart glass making future.
A digital perfume bottle with many facetts: story teller, memory keeper, messenger, picture frame, …
integrated 2.4'' display and speaker
USB port for personalized media
rechargable
music, videos, pictures
refillable through thread neck
smARtglass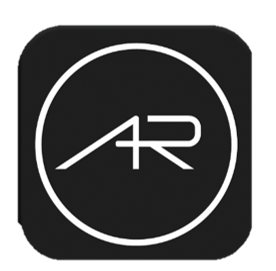 Developing the next dimension of glass by using augmented reality.
Creating a unique product experience through additional sensory input.
Enabling new ways of product design and packaging