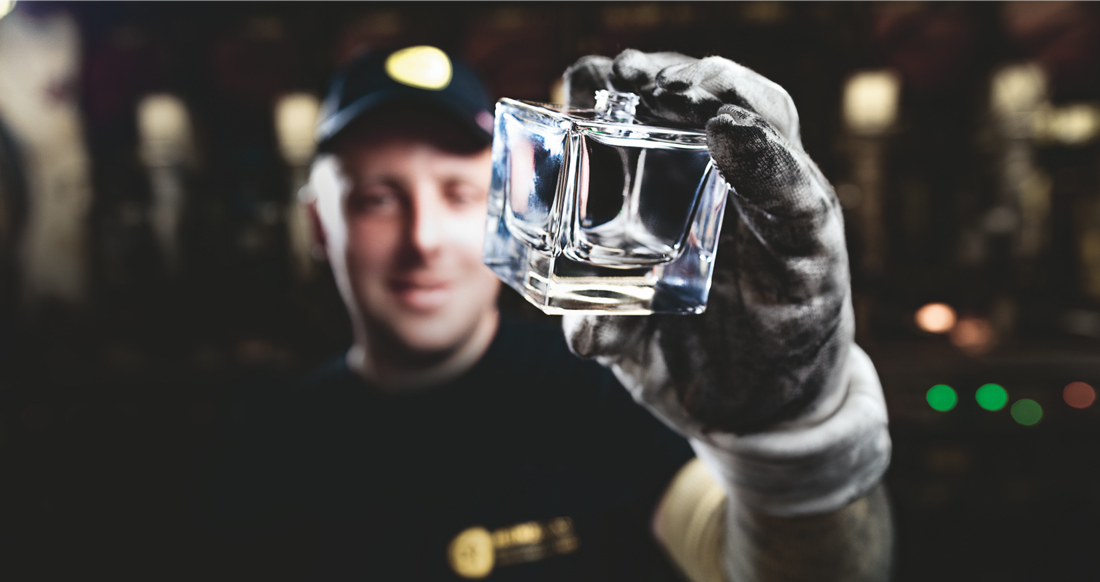 OUR QUALITY & COMPETENCE
WE ARE ADDICTED TO GLASS
Let yourself be enchanted … by the moment when you take a glass flacon in your hand and realize that glass is more than just glass. Here lies a tradition whose origins are far from any scent of glamour. It has a magic all of its own that casts its spell over people everywhere in the world.
With glassmaking in the family as far back as 1523, today, the HEINZ-GLAS Group is one of the leading manufacturers of glass flacons and jars for the perfume and cosmetics industry. This portfolio is also further enhanced by our extensive range of plastic caps, closures and accessorizes from HEINZ-PLASTICS. Entrepreneurial vision and well-targeted investments have contributed to our success on the international packaging market. Within a network comprising German locations as well as other sites worldwide, we develop, produce and refine "Complete Packaging" solutions, which are then distributed worldwide via company-owned subsidiaries or agencies – all from a single source. Whether crystal-white, white-opaline or colored glass… luxurious flacons featuring exceptional designs in a fully automatic production process – HEINZ-GLAS is your partner!
The core competencies of the HEINZ-GLAS Group centre particularly on the in-house development division and mold construction unit as well as state-of-the-art production and refining technology. Thanks to its innovative strength, consistent focus on quality and last but not least, its prudent international investment policies, the family holds a good position locally and globally for the future
GLASS TECHNOLOGY
HEINZ produces attractive, individually designed flacons and jars made of crystal-white transparent glass, white opal glass and feeder-colored glass. We provide customers with additional benefits because we at HEINZ-GLAS can offer greater flexibility in manufacturing small or large quantities within a shorter leadtime thanks to the flex technology developed at HEINZ.
HEINZ-GLAS is a master of the blow and blow process, pressure-blown glass and the pure pressure process on completely automatic IS glass working machines with single-gob to triple-gob.
DECORATION
Thanks to multifaceted decoration techniques (mostly in-house) such as matting and sandblasting (both also partially), single and multiple color spraying (also on surface parts), metallization, lasering, pad printing and silkscreen printing, embossing and gluing, HEINZ-GLAS can offer each product the perfect finish. The latest innovation for HEINZ-GLAS is laser engraving.
You can get an idea of the wide variety of refining options in our presentation using the example of a selected product from our GLASMEISTERWERKE.
CAPS
HEINZ-GLAS provides a complete packaging service. Our caps can be combined individually with our GLASMEISTERWERKE collection.